Message/Author
| | |
| --- | --- |
| Bill D posted on Friday, 21 October, 2005 - 10:30 pm | |
As regulars will know, I am nuts about the music of Barrios.

It was never really in the forefront of the CG repertoire (probably partly to Segovia's jealousy and antipathy) but JW championed the cause and there are now some great recordings on CD (including Barrios's own from 1913–1942!).

I despaired of getting a copy of "Six Silver Moonbeams", a biography of Barrios. A lot of web sites sold it but they had the original 1992 edition. I wrote to the author and he pointed me towards a British web site. www.fretsonly.com. If you are interested, they stock it.
| | |
| --- | --- |
| Tim posted on Saturday, 22 October, 2005 - 09:14 am | |
Thanks for the tip. I hope Santa is reading this...

The author Richard (Rico) Stover is one of the great Barrios authorities - he wrote the liner notes to the Naxos CDs and has transcribed /edited complete Barrios editions.

Have you ever listened to Barrios's own recordings? There's a 3 CD set of them available - you can find it at http://www.guitarcds.net/store/viewItem.asp?idProduct=767 I've not listened to them myself - guitarcds.net say the sound quality is often not good and elsewhere I've read that they're reproduced in true low-fi glory... They are after all taken from 78s.
| | |
| --- | --- |
| Bill D posted on Saturday, 22 October, 2005 - 04:24 pm | |
I have the original 3CD set in front of me. They are on the Chanterelle label (from Germany) and the sound quality is crap!

However, they have since been remastered and cleaned up. Don't know how good the new ones are but Rico Stover said that they are as good as or better than his own CD of Barrios's recording. The are called "The Complete Guitar Recordings 1913–1942" but there are few other recordings now on CD.

I notice that the CDs on guitarcds.net comprise 55 tracks but my set has 59 tracks.

It is possible to get amazing results from old recordings. Some of the restoration engineers are 'non-interventionist' but, to my mind, the best results are on the Dutton label. Their aim is to try to make historical recordings sound as if they were made yesterday! Unfortunately, they have no plans to expand into classical guitar.
| | |
| --- | --- |
| Tim posted on Saturday, 22 October, 2005 - 06:43 pm | |
Sometime I might check that Barrios set out. I listened to some Segovia 78 remasters (EMI) this morning and that'll keep me going for historic recordings for a while. But you're right about the quality of re-mastering being a key - I've heard some of the Nimbus Prima Voce CDs and the sound is amazingly clear.

What was this Segovia antipathy? Segovia was a great one for only playing what sounded right in his style - full, rich tone with lots of rubato. He met Barrios in 1921 and was given a copy of La Catedral - whatever happened to that I wonder. Did he perform it, record it, or just leave it in a box? Was he disappointed that Barrios wouldn't let him pass it off as someone else's (as Ponce allowed with Weiss). I know loads of manuscripts were found in Segovia's papers (like the four pieces by Berkeley that have only just been recorded)- I wonder if Catedral was amongst them.

Or perhaps he was just waiting for the prelude that Barrios didn't add till much later.
| | |
| --- | --- |
| Bill D posted on Saturday, 22 October, 2005 - 09:06 pm | |
I have some terrible CDs of Segovia but the Deutsche Grammophon ones are good.

Although I am enthusiastic about good digital resoration, Nimbus took the opposite approach. Where other people used electronic pickups or even optical scanning of 78s, they dubbed acoustically from 78s with thorn styli and huge horns with a microphone in them. Sounds primitive but, if you say it sounds good...

The Segovia apologists deny that Segovia ever received that Catedral manuscript! Segovia was very dismissive of Barrios and once said (in 1982) "Barrios is not a good composer for the guitar". Three years later, he said:
"Agustín Barrios has succeeded in planting the name and prestige of his works in the mind of professionals and amateurs who exist in numerous countries near and far.

His work is a flying academy that informs, deliberates and instructs as regards the intense and extensive life of our poetic instrument. He nourishes the love for the guitar and aids those who cultivate for mere pleasure or with aspirations of reaching a high distinguished place in the constellation of great artists. One must, therefore, congratulate my friend Agustín for the triumph of his powerful and noble effort."

But Rico Stover notes that none of this actually praises Barrios' composing or playing. Segovia hated the fact that Barrios used steel strings and played with his finger tips not his nails.

As far as is known, Segovia never recorded or even played anything by Barrios. Most people suggest that was due to jealousy because Segovia wrote little and because Barrios really beat him to the punch in recording. (He was the first classical guitarist to make recordings.)

I don't think Julian Bream played any Barrios either!
| | |
| --- | --- |
| Tim posted on Saturday, 22 October, 2005 - 10:42 pm | |
Nimbus Prima Voce sound OK to me - but maybe I'm misled by the pictures that look like an I***i supergun.

Nails have always been a thorny issue for guitarists - Sor and Tarrega didn't use them yet everyone else is supposed to.

Steel strings - did Barrios always use them or did he just experiement with them? I find it interesting that Classical playing has always been nylon or gut, folk-blues finger-pickers are almost always steel strung. (Please don't ask where Katie Melua fits into that).

That quote from Segovia. The bit in the middle sounds incredibly like the Segovia quote that used to appear in Guitar International - "your magazine is a flying academy etc etc" - so someone must be using a bit of licence with the maestro's words I suspect.

Bream - no he didn't record any Barrios nor any South American music apart from Villa-Lobos as far as I know. But then he was too busy exploring beyond the Segovian tradition with Martin, Britten, Tippett and so on.
| | |
| --- | --- |
| Bill D posted on Sunday, 23 October, 2005 - 01:10 am | |
I bought my Dad some Prima Voce CDs (Galli-Curci). I didn't reckon much to the sound but
(a) I don't like screechy sopranos anyway (especially Maria Callas!)
(b) old vocal recordings don't restore as well as instrumentals

"Steel strings - did Barrios always use them or did he just experiement with them?"
Don't know. I'll let you know when I have finished Stover's book.

"I find it interesting that Classical playing has always been nylon or gut..."
Has a more delicate, subtle sound, especially catgut but, since I own a beautiful cat...
| | |
| --- | --- |
| Tim posted on Sunday, 23 October, 2005 - 09:11 am | |
I look forward to hearing more about the steel strings.

It's intersteing how since JW's LP Barrios has become played so widely. Of guitarists with several CDs under their belts Bream and Yepes are the only ones who come to mind who have never recorded any Barrios. Both should have been great Barrios players judging by their performances of Spanish repertoire. Also many of the Naxos Laureate recitals have included Barrios

But with so many have recorded bits by Barrios why have so few all-Barrios discs been released? The only ones I know are JW's original LP and The Great Paraguayan, David Russell, the Naxos discs by Anigoni Goni and Enno Voorhoost. Reading his biography I think Voorhoost must have recorded another Barrios CD in the 90s. The only other disc I know that has even majored in Barrios is one by Marcelo Kayath which is half-Barrios, half-Ponce. It's a lovely disc which includes Tango No. 2 and a B minor study I've not seen recorded elsewhere.
| | |
| --- | --- |
| Bill D posted on Sunday, 23 October, 2005 - 03:42 pm | |
Voorhorst's earlier Barrios disc (in 1994) was on Sony but deleted now, I think. Rico Stover recommends one by Berta Rojas, called "Intimate Barrios", but that's deleted or hard to obtain too.

Vol. 3 of the Naxos Barrios series may have been recorded (by Norbert Kraft). I think they should spare some more time for Barrios. They have piles of Sor and Villa-Lobos already. I can feel a letter to Naxos coming on...

I have a Kayath CD, 'Guitar Classics from Latin America', with three Barrios tracks. Is that the one?
| | |
| --- | --- |
| Tim posted on Sunday, 23 October, 2005 - 04:51 pm | |
I despair too at the fact that Vol 3 of a Naxos Barrios guitar collection hasn't appeared. I think it was originally suggested their series would run to 5 CDs, and a disc from Kraft himself should be good value (even though Naxos have put their price up). You're right, they have got bucketloads of Sor but it sems curious that their complete Sor series has stopped with just a few works (including the Op.9 variations) to release.

As well as the CD you mention Kayath released a further 3 CDs on the IMP label. 'Guitar Classics from Latin America Vol 2' is the half-Barrios, half-Ponce disc. The Barrios are Mazurka Appassionata, Danza Paraguaya Tango No.2, Confesion-Romanza, Le Catedral, Study in B minor, Study in A 'Las Abajas' and Tremelo: 'Una Limosna por el amor de Dios'. By the way, those are the spellings on the back of the box - the booklet corrects La Catedral. I think the D.P. is No.3. Regis have re-released a mixture from this album and the one you've got - the different sources are probably quite audible as Vol 2 doesn't have the same room echo.

Kayath's 'Guitar Favourites' CD includes two bits of Barrios - Vals Op.8 No.4 and Maxixe. His Maxixe is terrific - it feels a bit like a Sunday afternoon drive in the country with Colin McRae. This CD sits near Kraft's Naxos Guitar Favourites on my shelf but the only favourite they have in common is Cavatina.

Browsing on eBay earlier I came across some Barrios piano arrangements in the listings from international sellers. The performer is Lito Barrios (grandson of Agustin's sister) and there's a link to listen to a sample (Vals Op.8 No.4). The disc is El Piano de Mangore so use mangore as your search term. Happy bidding!
| | |
| --- | --- |
| Bill D posted on Sunday, 23 October, 2005 - 08:52 pm | |
Not that keen on piano music. Too plinky-plinky, often. However, the right piece in the right (and left!) hands...

Still never as good as guitar though!

I suppose Naxos couldn't stay at 4.99 for ever! Still better value and better than many others. And their commitment to guitar (including the chance for lots of young/new guitarists to get known) is pleasing (even if they are a bit slow on the Barrios).
| | |
| --- | --- |
| philip orgill posted on Sunday, 23 October, 2005 - 09:03 pm | |
You can find the Barrios book here for $20 US: http://www.guitarsalon.com/store.php?template_id=gsi_site_a.tpl&it=BOSIXST-02554 &render_it=SPEC&searched=YES&spot=img_1&product_cat=BO&product_subcat=all&search _string=&render_type=&order_by=field_1

it is chesper than the other place mentioned on the 1st post.
| | |
| --- | --- |
| Tim posted on Sunday, 23 October, 2005 - 09:55 pm | |
I quite agree about Barrios on the piano - nonetheless an interesting experience, and perhaps one that helps understand what pianists have against guitar transcriptions of Granados, Albeniz, Chopin, Debussy etc

The Barrios piano piece plays on www.donnieboy.com - the website of a New Jersey Baptist family doing missionary work in Paraguay. As well as a sample of Don's own guitar playing there's a link to the website of a Paraguayan guitarist called Luz Maria Bobadilla - her site details several CDs on which she plays Barrios.

By the way - the Danza Paraguaya played by Kayath isn't No.3, it's No.1 (usually left un-numbered I think). Still his CDs are well worth checking out if you can find them. Ever since I first heard JW's LP I've wanted to hear more Barrios.

Have you found out about the steel strings yet, Bill. Richard Chapman's book 'Guitar' says he used them 'at one stage early in his career' - no doubt Rico Stover's a better authority than a glossy book which goes from the middle ages through to Kurt Cobain and the Red Hot Chili Peppers.

Near the back of that book there's a pic of Baden Powell - now have you ever heard his Barrios...
| | |
| --- | --- |
| Tim posted on Monday, 24 October, 2005 - 07:47 am | |
A PS to my last posting. Baden Powell playing Barrios is almost certainly a trick of my memory. He played some classical material (Asturias, Adelita). He also played Interrogando which Marcelo Kayath played on the CD Bill mentioned.

But that's the trouble with Barrios - ever since that first JW LP I've wanted to hear more. Yet other players seem to stick to a handful of favourites like Catedral, Choro de Saudade and Julia Florida. At least The Great Paraguayan and David Russell made some other pieces easily available, but that's 10 years ago.

10 years ago! It's amazing that it's that long since JW made a CD entirely of solo guitar.
| | |
| --- | --- |
| Bill D posted on Monday, 24 October, 2005 - 09:21 am | |
Haven't found out about the strings. I'm saving the book for my next trip. On Saturday, I leave for a week on Ascension Island!

(Although the book is cheaper on the American web site, what's the postage to the UK?)

Favourites? You left out 'Sueño en la Floresta'! :-)
| | |
| --- | --- |
| Tim posted on Monday, 24 October, 2005 - 12:51 pm | |
Sueno en la Floresta is certainly a listeners favourite, not so much a players' favourite I guess. You need an extra fret on your guitar, which is a good excuse for not being able to play it! JW stuck a matchstick on to his Fleta for this, Smallman probably leaves a spare bit of blu-tack ready for this.

Be very careful what you say about Barrios or the cost of postage on Ascension Island. You may remember that last year the Royal Mail sent some of their Christmas post to Asuncion, Paraguay. I know I made a mistake about Baden Powell but this is true (Scouts' honour).
| | |
| --- | --- |
| Bill D posted on Monday, 24 October, 2005 - 11:40 pm | |
The Ascension/Asuncion coincidence stuck me when I opened 'Six Silver Moonbeams'. Parts of Paraguy in the mid-19th century must have seemed as isolated as Ascension.

A lot of Ascension air mail has being going astray. Tristan da Cunha is even worse. Like Ascension, it is part of the St Helena & Dependencies 'group' but its one town is Settlement of Edinburgh. They only get visited by ship once or twice a year and some of their mail ends up in Edinburgh (Scotland).

There was great celebration recently when Tristan da Cunha got a British post code to solve this problem. Now they can order from Amazon. Must write to someone there and recommend the Naxos Barrios...! :-)
| | |
| --- | --- |
| Bill D posted on Monday, 24 October, 2005 - 11:47 pm | |
P.S.
As for that extra fret, on another occasion, JW retuned his guitar upward, in the studio, and over-dubbed the higher note.

Don't recall what the piece was.

It may be cheating but it probably gives a more musical note than the higher fret.

BTW, is anyone else reading this besides Tim and me? Who are you Tim? :-)
| | |
| --- | --- |
| Tim posted on Tuesday, 25 October, 2005 - 08:00 am | |
Tristan da Cunha, Amazon, missing post? With that sort of connection 'Lamento di Tristan' should be on the next Latin American compilation...

Who am I? Tim (that's not obvious on the net). Born raised and domiciled in England, went to school, saved my pocket money and bought a JW Rodrigo LP in a Woollies sale, had half a cassette of Sky 2 at one time, discovered Richards's JW site a few weeks ago. I don't know if anyone else reads this, but if not, why not?

I'm glad to hear JW re-tuned his guitar for that extra note. Some would keep playing the high B and get the engineer to crank the tape up a semitone.

Back to Barrios. The usually reliable crotchet.co.uk list the Berta Rojas CD as currently available. Unfortunately, I'm determined not to be racked by credit card debt this isde of Christmas.
| | |
| --- | --- |
| Bill D posted on Tuesday, 25 October, 2005 - 12:13 pm | |
What's 'half a cassette'?

I saw the Rojas CD on hmv.co.uk for £14.99 which is 99p dearer (if you include P&P) and is slower than Crotchet.

I'm Scottish (although born in Yorkshire). Never had a record player as a kid so I bought my first album (cassette of 'Dark Side of the Moon') when I was 23!

My first JW purchase was 'Greatest Hits', followed soon after by 'Changes', 'The Height Below' and 'Travelling'.
| | |
| --- | --- |
| Tim posted on Tuesday, 25 October, 2005 - 04:02 pm | |
Sometime later I bought some more JW - the Villa-Lobos/Scarlatti, Paganini (the one with Richard's favourite cover) and Together LPs. Classical Guitar was only ever a side-interest - alright, the poser in me, I don't think I listened to them very much apart from Together.

I bought the Barrios LP on spec. At that point I didn't know any dissonant tuneless or just plain tedious, overlong music had been written for classical guitar. If I had known that, I wouldn't have bought an LP of music by a composer I'd never even heard of. Absolutely wonderful.

The first Barrios I acquired on CD was by Goran Sollscher - Catedral and Vals No.3. In Pythonesque terms it was like a great jam doughnut - hugely enjoyable and when it was gone I was hungry for more! The preceding piece on the CD was a 14 minute Sor fantasy...
| | |
| --- | --- |
| Bill D posted on Tuesday, 25 October, 2005 - 11:55 pm | |
So what would you consider dissonant and tuneless? Go on, offend someone.

Unfortunately, 'modern' CG music is afflicted by the same malaise as the rest of modern 'classical' music. The same jerky, unmelodic sounds, with sudden changes in volume and with note changes that seem to have little respect for key.

I am playing one now, called "...the isle is full of noises... new scottish music for guitar". (Note the arty use of lower case in the title.) The guitarist is obviously adept but some of the 'music' sounds like someone messing about with a guitar.

But then, anyone reading this has seen the Barrios thread title and probably knows what real music sounds like! :-)
| | |
| --- | --- |
| Tim posted on Wednesday, 26 October, 2005 - 08:33 am | |
I'm reminded of the Wilde-Shaw exchange - 'bring a friend if you have one', 'I'll come to the second performance if there is one'.

Offend someone - not in my nature! As this is a JW site I'll just say I never play his Takemitsu disc and only ever play half of the Harvey-Gray disc. There's a few other tracks I skip. I've never heard 'From Australia' so I couldn't possibly comment.

I forgot to tell you about the half a cassette - it was a double album, the cassette I had was just tape 1.

Almost time for me to listen to some Barrios, but before I do I'll listen to one of Victor Villadangos's Naxos CDs of Argentine music. Recommended.
| | |
| --- | --- |
| Tim posted on Thursday, 27 October, 2005 - 04:03 pm | |
As Bill's about to go off to Ascension Island there'll only be me left in this discussion soon!

Have a good trip, Bill. I look forward to hearing about the steel strings and lots more when you return. Hope you get a decent in-flight movie. It probably won't be "Kissing Jessica Stein" as that's a bit old now. 'KJS' used the 3rd section of La Catedral (played by Angel Romero I think) to accompany a romantic scene, tho' it's not on the soundtrack CD.

Safe journey, and I hope your cat's well looked after. :-)
| | |
| --- | --- |
| Bill D posted on Thursday, 27 October, 2005 - 10:45 pm | |
In-flight movie? The flight leaves at 11.00 p.m. and arrives at 7.15 p.m.! Same on the way back.

And I don't sleep well on planes.

And...this one's an RAF flight!

The cat will be well looked after. I'm going alone. The family stays here! :-)
| | |
| --- | --- |
| Bill D posted on Friday, 28 October, 2005 - 08:52 am | |
Just been listening to Norbert Kraft's Naxos recital. The Tarrega pieces.

I think the Barrios Vol. 3 will be good if he's on it.
| | |
| --- | --- |
| Tim posted on Friday, 28 October, 2005 - 12:13 pm | |
Kraft's a fine player, though sometimes I find his roooooooooooooooobato a bit extreme. That said, he made a decent recording of Julia Florida.

His Villa-Lobos disc doesn't have the same tempo variations. I really expected him to milk Prelude No.3 for all it was worth - he doesn't, and I really enjoy the disc. He doesn't play the repeats in Prelude No.3 - I don't know why but may be it's for the same reason that Bream played all five out of sequence.

Yes, I'd love to hear more Barrios from him. So if anyone called Klaus or Norbert's reading this...
| | |
| --- | --- |
| Bill D posted on Monday, 07 November, 2005 - 03:58 pm | |
Well it seems that Barrios played with steel strings throughout his career (and was vilified for it).

He threaded the string through little pieces of rubber to deaden the metallic sound. The "six silver moonbeams" in the tiel of the Stover book are from a poem where he said that his guitar and playing were a gift from an Indian god.
| | |
| --- | --- |
| Tim posted on Monday, 07 November, 2005 - 09:22 pm | |
Welcome back. Hope the trip to Ascension went well.

If he used steel strings all the time no wonder he played without nails. Actually I read somewhere that his choice of steel strings was because they're better in a hot humid environment.

There's a lot of fuss in the classical music world about authentic / period / original instrument styles - Vivaldi on gut-strung violins with no vibrato etc. Perhaps some enterprising guitarist will play Barrios on steel strings with no nails...
| | |
| --- | --- |
| Bill D posted on Tuesday, 08 November, 2005 - 12:42 am | |
According to the book ("Six Silver Moonbeams"), Barrios may have used nails. There is only one photograph to show his right hand. The nails are not as long as a traditional CGist but looked quite tough.

The story was that (good) gut strings were hard to come by while he grew up. The humidity problem was also mentioned. Gut strings also didn't last long. Even Segovia eventually went over to nylon.

I don't really care that much. The main things to me are (a) the piece and (b) the playing. JW has played classical style on steel strings in his Sky days.

I recall something about nylon strings with iron filings incorporated so that they would work with an electric pickup. Not sure how that compares...
| | |
| --- | --- |
| Tim posted on Tuesday, 08 November, 2005 - 09:15 pm | |
Nylon strings with iron filings? I thought this was a wind-up till I discovered Ted McCarty's electric uke.

http://www.vintageguitar.com/brands/details.asp?ID=144

Bizarre.
| | |
| --- | --- |
| Tim posted on Wednesday, 09 November, 2005 - 07:56 am | |
I got distracted by electric ukuleles and images of Eric Clapton leaning on a lamp-post at the corner of the street.

I realised JW had to use steel strings for electric playing in his Fly'n'Sky days. Do you mean he also used steel string acoustics?
| | |
| --- | --- |
| Bill D posted on Wednesday, 09 November, 2005 - 01:14 pm | |
George Harrison got Clapton, McCartney, Dave Edmunds and any else who visited playing the ukulele.

GH was a George Formby fan. (The end of 'Free As A Bird' fades with a ukulele and a Formby-type voice, which may be John Lennon, saying "Turned out nice again"!)
| | |
| --- | --- |
| Tim posted on Wednesday, 09 November, 2005 - 02:49 pm | |
I'm sure there were days when he wished he'd recorded 'My Sweet Lord' in the style of George Formby accompanied by a banjo-uke. That way he might have avoided confusion with any other song...

Seriously though. JW and steel-strung guitars - any more thoughts there?
| | |
| --- | --- |
| Bill D posted on Wednesday, 09 November, 2005 - 04:19 pm | |
The plagiarism trial over 'My Sweet Lord' produced a hypocritical "He must have known" from John Lennon, who had been sued by Chuck Berry for much the same thing.

Anyway, back to Barrios. The 'Concert for Bangla Desh' (now out on DVD folks!) is often thought of as the first big disaster benefit concert, long before Band Aid/Live Aid.

However, Barrios was doing concerts like this for victims of natural disasters, waaay back. :-)
| | |
| --- | --- |
| Tim posted on Wednesday, 09 November, 2005 - 08:53 pm | |
Don't know 'He must have known' by John Lennon. Never did like his music. If you say it's hypocritical I'll take your word for it. Still 'tis the season to be jolly and we'll be hearing 'war is over' to excess again soon.

Apparently 'Fields of Gold' was based on Bach's 1st cello suite prelude. Never could hear it myself, but then it's always safe to credit someone else if you're sure they're out of copyright. And of course it stops anyone else accusing you... Now there's a thought, perhaps George wrote 'my Lord's so fine' on his uke so he's didn't recognise the Bachian counterpoint in the bass.

Bach to Barrios. I really ought to get Santa to track down Six Silver Moonbeams as it sounds well worth the read.
| | |
| --- | --- |
| Bill D posted on Thursday, 10 November, 2005 - 09:14 am | |
Sorry. Too brief. I meant that "He must have known" was a remark, not a song. I loved *some* of Lennon's music.

Not so sure about his attitude though. Tried to come across as the big protest singer but wouldn't do the Concert for Bangla Desh. Was in a huff because they wouldn't let Yoko on too.
| | |
| --- | --- |
| Tim posted on Thursday, 10 November, 2005 - 05:41 pm | |
If not a protest singer, certainly a 'working class hero'. And in that style he obviously had to stand up for family like he was in East Enders....

A lot of CG players have done Lennon-McCartney arrangements. If Barrios had lived a generation or two later would he have done the same?
| | |
| --- | --- |
| Bill D posted on Thursday, 10 November, 2005 - 10:22 pm | |
Actually, he wasn't working-class at all. Apart from the fact that he never did a real day's work in his life. He was brought up in a middle-class environment by his aunt Mimi but affected a working-class Scouse accent.

The only Beatles who ever had 'real' jobs were George (apprentice electrician) and Ringo (delivery boy/waiter/apprentice joiner).

A lot of the CG and other arrangements of Lennon-McCartney were pointless. If you thought JW's version of 'Because' on 'Changes' was good, you should hear the Beatles' own acapella version on Anthology!

Haven't heard the Barrueco L&M album but I have Göran Söllcher's 'Here, There & Everywhere'. I was about to slag it off but I'm playing it now and 'Honey Pie' is better than I remembered! 'She Came In Through The Bathroom Window' wasn't a good idea though. 'I Me Mine' sounds like lounge music.

Still, Barrios was a rebel and playing with steel strings must have endeared him to the jazz fraternity. In a later generation, that would have been rock musicians. His 1977 equivalent would have been his latter-day champion, John Williams.

I suspect that some of these 'old guys' would have reacted like Beethoven presented with synthesisers in 'Bill & Ted's Excellent Adventure. :-)
| | |
| --- | --- |
| Tim posted on Friday, 11 November, 2005 - 12:48 am | |
Yes, I too rather think that a latterday Barrios would have played Beatles arrangements.

As CGers' L&M goes Barrueco is fine, but I've had enough before I get to 'The Long and Dreary Road' (music to choose bathroom fixtures by). 'Hey Jude' as a guitar solo is 'ding-ding, ding-ding-ding-ding...' - it really does need the words or at least the na-na-nas. Don't let me put you off, the playing of the Brouwer arrangements for guitar and strings or two guitars are excellent, (and all for 99 e-bay pennies).

JW made two all-Barrios albums, but never put more than one L&M arrangemnt on an album. A wise decision.
| | |
| --- | --- |
| Tim posted on Wednesday, 16 November, 2005 - 09:02 am | |
Well no-one else has ever joined this discussion.

The problem with too many arrangements of L&M is that they take away more than they add. I can understand why people play them - "can't you play something we know, play something by Lennon and McCartney" (not that they wrote 'Something').

That I think is one of the joys of Barrios - his music hasn't been re-arranged and what you get is its originality and vitality. I've just been listening to Sharon Isbin: her Journey to the Amamzon CD adds percussion to Lauro and Brouwer, but the Barrios pieces are left unadorned. Quite right too - the music just needs playing well, not 'improving'.

Incidentally I've got 6 recordings of Julia Florida and it's not on Naxos Vol 1 or 2.
| | |
| --- | --- |
| Tricky posted on Wednesday, 16 November, 2005 - 09:18 am | |
I've been eavesdropping, but your knowledge is beyond me!
| | |
| --- | --- |
| Tim posted on Monday, 28 November, 2005 - 09:19 pm | |
Earlier on the extra fret for Sueno en la Floresta came up.

JW played it on the Seville concert - on the CD cover his Smallman only has 19 frets (as do all the other pics I've seen of his Smallmen). Has anyone got the Seville Concert video to see how he managed that 20th fret high C?
| | |
| --- | --- |
| Tricky posted on Monday, 28 November, 2005 - 10:52 pm | |
Seville Concert DVD. The pic doesn't do it justice. He applies pressure with four fingers to stretch the string. Notice the position of his thumb - to add extra leverage. This is one of the rare occasions he actually concentrates on his finger's position (it's a context thingy).

I've cropped the pic a bit to reduce the file size while keeping the detail.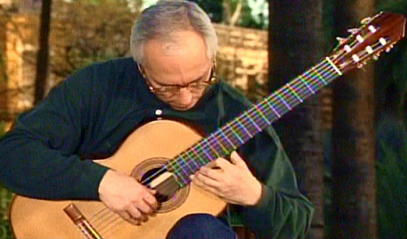 | | |
| --- | --- |
| Tim posted on Tuesday, 29 November, 2005 - 12:28 am | |
Thanks for this Tricky. If that were true that would be absolutely awesome.

But I find it hard to believe that even JW could exert enough pull along the string length to stretch a high-tension string up a semitone.

Under pressure? Dum, de-de-dum, de-de-dum-dum....
| | |
| --- | --- |
| Bill D posted on Tuesday, 29 November, 2005 - 10:31 am | |
I have just discussed with a guitarist. Stretching a string by a semitone isn't that difficult, especially around the middle of the string. Doesn't even need four finger.

It's most difficult (if not impossible) at the first fret.

Classical guitars usually don't have particularly high tension on the strings anyway. That was why Barrios sometimes tuned his guitar low, because the tension from steel strings made his classical guitar 'bow'.
| | |
| --- | --- |
| Tim posted on Tuesday, 29 November, 2005 - 01:15 pm | |
Yes, nylon strings are lower tension than many acoustic steel strings - JW uses high tension nylon strings (check his CD credits) because they're louder.

Stretching a string. I took Tricky's comment to mean that he pulled back along the line of the string towards the nut - which I'm sure is difficult. Pushing at 90 degrees to that, across the width of the fingerboard is easy - particularly on an electric with light gauge strings, so it's stock-in-trade for rock and blues players to bend the note that way. Looking at Tricky's photo I don't think JW's doing that.
| | |
| --- | --- |
| Tricky posted on Tuesday, 29 November, 2005 - 08:29 pm | |
He appears to use the index finger as a clamp then presses down hard with the middle and ring fingers. The little finger definitely presses down last - with concentration. You can see the tendons standing out a bit.

Pure speculation:- To prevent the string sliding under the 'clamp', could the string and finger board have been lightly rubbed with something like resin? Probably wrong, but my background's engineering, not musicianship.
| | |
| --- | --- |
| Tim posted on Tuesday, 29 November, 2005 - 10:55 pm | |
Resin? Do you mean like a bit of bath sealant to stick his fingers to the strings...

Quite the opposite. Many guitarists (I'm not sure about JW) use a lubricant to stop their fingers squeaking on the strings.

Of course, sound engineers wanting the authentic 'unplugged' sound place a microphone over the fingerboard to record those squeaks, and carefully mix it into the sound when there's nothing much going on musically.
| | |
| --- | --- |
| Bill D posted on Wednesday, 30 November, 2005 - 04:58 pm | |
No. Presumably it's tree resin/rosin like string players use on their bow strings, not a synthetic polymer.

I asked one classical guitarist about the squeaks and he just said "Bad technique" although one of his favourites (Manuel Barrueco) squeaks a lot. :-)

JW doesn't. Nor does Sharon Isbin.

Anyway, I thing the resin is unlikely. Tree resin would make the strings, fingerboard and fingers sticky and make it harder to play. It would also attract dirt which would rapidly degrade the tone.
| | |
| --- | --- |
| Tricky posted on Wednesday, 30 November, 2005 - 05:50 pm | |
Natural resin (rosin) is what I meant. Among other things, I used to rub the dry stuff on conveyor belts to stop cardboard boxes sliding. Didn't think of the dirt aspect! Another theory crushed :-)
| | |
| --- | --- |
| Tim posted on Wednesday, 30 November, 2005 - 09:02 pm | |
I think fiddle players use the rosin to increase friction too, so the bow sticks to the strings more - and squeaks more :-(

Interesting that Barrios tuned his guitar low - do you mean at below concert pitch, or just re-tuned like the dropped 5th and 6th strings in Sueno.

Early 78s by Segovia are above concert pitch (as much as a semitone). Whether that's because he tuned his guitar higher for a brighter sound, or just to impress that it sounded faster when played back is a matter of opinion.

I had a look at string tensions the d'Addario site. A set of hard tension nylons like JW uses extert about 80lbs pull, medium gauge for a stell strung acoustic about 180lbs (hence Barrios's bent necks). Light gauge electric strings are about the same pull as classical nylons, but many rock players use extra light, or extra extra light which pull less.
| | |
| --- | --- |
| Tricky posted on Thursday, 01 December, 2005 - 09:01 am | |
The last time I'll mention rosin as it's off-topic! Wikipedia :- "...rosining the bows of stringed instruments... ...extra substances such as gold and silver are added..."
| | |
| --- | --- |
| Bill D posted on Thursday, 01 December, 2005 - 10:43 am | |
Apparently Barrios tuned his guitar to whatever he felt like! Not concert pitch.

It is not alway easy to tell what pitch early recordings were made at. 78 r.p.m. was only a nominal speed. The actual speed varied between studios, machines or sessions.

That, for example, made it difficult to remaster the early Caruso recordings, especially on 'Caruso 2000' where they picked out his voice and replaced the old orchestra with a modern recording. Clever stuff with a mono recording!
| | |
| --- | --- |
| Tim posted on Thursday, 01 December, 2005 - 07:30 pm | |
So did 'Caruso 2000' have a sticker that said 'digitally remastered'. Sorry, wrong discussion!! This sort of piecing together has its ironies - I remember seeing some pop bimbo on telly saying she'd enjoyed making her duet record and was now looking forward to meeting the other 'star'. (The biggest irony was she didn't realise what she'd said was ironic.)

Speed variation was an eternal problem for 78s but apparently Segovia's were consistently recorded slow so they gave the impression of him playing faster. Perhaps another reason for being jealous of Barrios.

Though of course we should be grateful to Segovia for improving the status of the classical guitar. You can compare musical status by the fact that nylon guitar strings only have iron filings added, violinists add gold and silver to their... (what's it called Tricky?).
| | |
| --- | --- |
| Tim posted on Friday, 02 December, 2005 - 10:50 pm | |
I decided it was time I watched the Seville Concert so I got the video from the library.

Tricky, your still is just before he starts the 2nd tremolo section, there's a rapid run down from the 17th fret so I think what your still shows is the other fingers ready in position behind his pinkie.

The high C on the 20th fret is in the 2nd tremolo section - in the minor key bit just before he returns to the major at about 4'35". The early part of the minor key section has a close up head shot, then a close-up of his right hand taken from his right. This right hand close-up obscures his left hand on the high frets over the body - so you can't see what his left hand's doing at this point.

But he's certainly not playing a high C at the 20th fret as he hasn't got one. The left hand fingering is too complex for him to be bending the note upwards. So that section must be edited in, as Bill suggests, by having the top string tuned up a semitone...

"Cheat!" Maybe, but do you really mind? I don't. Sueno is absolutely awesome guitar technique and on a 20 fret guitar he could certainly play it. If you compare pics of Fleta and Smallman you can see that Fleta has a complete 19th fret, Smallman's is cut to accomodate the soundhole. This means that the Fleta had just enough fingerboard to stick a partial 20th matchstick fret on for the '77 recording - stable enough for a studio when a retake was possible. With the Smallman that just wouldn't be possible.
| | |
| --- | --- |
| Tricky posted on Saturday, 03 December, 2005 - 11:26 am | |
It does make me wonder. I can barely play a car horn so I don't know how he does it! It sounds good though. Some of sequences you'd like to see are annoyingly (deliberately?) obscured – after all, who's really interested in a close up shot of his right bicep/elbow? Having been messing around with video/audio editing for over a year now, I know you can make anything appear (and sound like) something else. Even 15 (or so) years ago the technology would have made this easy. (I've gone all technical here, haven't I?)

What we could do with is someone to try this in practice. Perhaps a certain famous classical guitarist to clear it up? :-)
| | |
| --- | --- |
| Tim posted on Saturday, 03 December, 2005 - 12:43 pm | |
I was wondering about the 'in practice' bit too... has JW ever played Sueno live?
| | |
| --- | --- |
| Tim posted on Saturday, 03 December, 2005 - 01:56 pm | |
Incidentally what I said about JW's Fleta having a complete 19th fret is wrong. Some Fleta's did, but not the one he used in the late 70s. But I think it would still have had room to blu-tak the matchstick on.

Sorry for all this fussing about the 19th fret. The reason some guitars have it cut out is to allow the soundhole to be moved slightly nearer the heel, thus increasing the vibrating surface of the top (and therefore increasing volume). Classical guitars with a 20th fret usually have a fingerboard extension over the sound hole.

Time now to take my anorak off and go out.
| | |
| --- | --- |
| Bill D posted on Saturday, 03 December, 2005 - 04:15 pm | |
He could always fit Scruggs pegs or Scruggs/Keith pegs, used to great effect in some bluegrass banjo solos.

The former were invented by Earl Scruggs, the father of Bluegrass banjo. They were little levers built into the machine head (of a banjo), pushing against the strings, that allowed the player to tune any string up or down a semitone.

The latter were a more sophisticated version, with enclosed cams, to do the same thing.

And if you think that a banjo isn't sohpisticated enough for the kind of playing that we are talking about, you haven't heard
(a) real bluegrass (like Flatt & Scruggs)
or
(b) Bela Fleck's 'Perpetual Motion' (featuring John William as a guest musician).

'Perpetual Motion' is an album of classical pieces played on the banjo.
| | |
| --- | --- |
| Tim posted on Saturday, 03 December, 2005 - 07:08 pm | |
Harps are tuned to white notes only. Black notes are achieved by similar levers to raise/lower a semitone. Makes diatonic scales easier, chromatic scales a bit of a b****r...

Bother ;-)
| | |
| --- | --- |
| Bill D posted on Saturday, 03 December, 2005 - 08:01 pm | |
That explains why the harp is supposed to be so difficult to learn/play.
| | |
| --- | --- |
| Tim posted on Saturday, 03 December, 2005 - 10:33 pm | |
I'm told that if you want to learn the harp you're recommended to learn piano for at least a couple of years first. But you then have to accomodate that that your fingers have learnt the wrong way round (i.e. on your right hand your thumb plays higher notes than your little finger).

Concert harps use the pedals to adjust up/down the semitones, Celtic harps have levers at the top of each string. The pedals make everything easier as they'll flatten every B at the same time: on the Celtic harps you could have the Bs in different octaves set to B flat, B natural, B sharp (that's C to you and me)

But right back on topic there are harp arrangements of Barrios (Preludio in C minor / Villancico de Navidad / Julia Florida / Mabelita) though I've no idea if they're recorded rather than just available in sheet music. And there are suggestions that some Barrios compostions such as the Danza Paraguaya imitated the Paraguayan folk-harp.
is "the Great Paraguayan...etc" by Williams a re-release of "From the Jungles of Paraguay ...etc" or of his early vinyl recording "John Williams, Barrios?"
| | |
| --- | --- |
| Bill D posted on Friday, 16 December, 2005 - 06:07 pm | |
These are the same album. The former is the UK and the latter the US release.
| | |
| --- | --- |
| Tim posted on Friday, 16 December, 2005 - 06:19 pm | |
I had a quick peek on amazon.com and couldn't find 'Latin American Guitar Music by Barrios and Ponce' which is the CD re-issue of the 70s vinyl recordings. So maybe it's not available in the US. It's easily available (often at knock-down prices) in the UK.
| | |
| --- | --- |
| Bill D posted on Saturday, 17 December, 2005 - 12:07 am | |
'Latin-American Guitar Music by Barrios and Ponce' is on Sony Essential Classics and is £4.99 from Amazon.co.uk.

They will ship to the USA but that would cost you.

Some Essential Classics releases are available in the USA but with different covers.

If anyone is looking for one to be shipped to the USA, I'll try to help. (The shops...erm, stores...here are full of them.)
| | |
| --- | --- |
| Tim posted on Saturday, 17 December, 2005 - 12:53 am | |
As well as Bill's fine offer a couple of UK classical specialists are well worth looking at - www.crotchet.co.uk and www.mdt.co.uk

Both have excellent reputations, and are well used to export to customers in North America and quote prices exempt of UK VAT for non-EU customers. For JW's 'Latin-American Guitar Music by Barrios and Ponce' they quote £4.26 plus £1.50-£2.00 postage so you'd be looking at 10-11 US dollars inc shipping. Cheaper than Amazon I guess.

I expect www.hmv.co.uk will have another sale (to mark the end of the previous sale) staring 26/27 Dec. This CD has been in the last few sales at £2.99 but you'll need to proceed to checkout to work out the shipped cost.
| | |
| --- | --- |
| Tim posted on Tuesday, 27 December, 2005 - 09:01 pm | |
HMV do have a sale and it's not in this one! First time for years.....
Does anybody know if there are facsimilies of Barrios' original manuscripts available, perhaps included in editions? I ran across one, the prelude to La Catedral is reprinted in an edition by Alirio Diaz that I borrowed through inter-library loan.
Thanks, jeff
PS there is so much info about Barrios on this board, I actually thought it was a Barrios site. Does anyboddy know if there exists a similar site with a discussion board about Barrios?
Thanks, jeff
| | |
| --- | --- |
| Tim posted on Saturday, 14 January, 2006 - 01:07 am | |
The great Barrios authority is Rico Stover (you've probably seen his two volume complete critical edition published by Mel Bay, plus the book mentioned by Bill above). You could try contacting him through his web-site www.quericopub.com - if anyone knows he should. Do let us know if you find anything out!

Incidentally I've seen elsewhere that some players re-arrange Sueno's melody so they don't need the high C. Time for some very careful comparative listening... ;~\
thanks tim, but have you opened that link you gave me lately? it switches over to virtual empire which sells websites and can not be searched for stover or barrios or anything.
jeff
| | |
| --- | --- |
| Tim posted on Friday, 20 January, 2006 - 10:44 am | |
Bizarre! The link was live on the day I posted it - I remember reading it. I was fascinated by his account of the guitar in Puerto Rico but that he didn't mention Guillermo Venegas Lloveras, the only Puerto Rican guitarist I know anything about. If you don't know GVL take a look at http://go.to/venegas

Although a bit old an article by Graham Wade suggests that most Barrios editions have been made by transcription from the recordings or rather than original manuscripts. That's on http://www.egtaguitarforum.org/PDF/Barrios.pdf And yes, I really must get round to reading Stover's 'Six Silver Moonbeams'

Both links live at time of posting!!
| | |
| --- | --- |
| Tim posted on Friday, 20 January, 2006 - 11:09 am | |
I'm becoming illiterate in my dotage (I'm almost as old as Bill and he has the benefits of clear Highland air)! Should say new editions are either by transcription from Barrios's own recordings or occasionally from versions published when he was alive.
| | |
| --- | --- |
| Bill D posted on Saturday, 21 January, 2006 - 02:59 pm | |
Haven't been to the Highlands for years. I live just outside Glasgow. I have rarely worn a kilt and do not possess a claymore! :-)
| | |
| --- | --- |
| Tim posted on Sunday, 22 January, 2006 - 12:34 am | |
A sporran, a haggis, a dirk...? D'ye gie ta a Burns supper?

Seriously, no matter what his influenecs Barrios produced music that was always true to himself, whereas Villa-Lobos produced cod stuff like a Scottisch-Choros.

Back to those manuscripts - I think it was Rico Stover (not so much 'que Rico' as 'donde esta Rico'!) who said that the recordings should be regarded as Barrios's definitive versions rather than his manuscripts.
| | |
| --- | --- |
| Bill D posted on Sunday, 22 January, 2006 - 07:20 pm | |
"Gie" means "give". "Gae" is cod Scots for "go". (Should be "gang"). The Scots for "to" is "tae", not "ta".

But then, dae ye gie a toss? :-)
| | |
| --- | --- |
| Tim posted on Sunday, 22 January, 2006 - 10:42 pm | |
Is that a toss of a caber? Actually I was wondering if you made a financial contribution to the funding of Burns suppers, assuming ye gang tae wan.

Seriosly, I don't think Barrios ever wrote an 'ecossaise'.

Slange! (had to look that one up)
| | |
| --- | --- |
| Bill D posted on Monday, 23 January, 2006 - 10:04 am | |
And slainte mhor to you too! (In case, any thinks I'm swearing, it means "cheers".)

To keep things on the guitar and Scottish topics, a friend gave me David Russell's "Message from the Sea", Celtic music on guitar. I loved it so I bought Andrew White's "Guitarra Celtica" expecting something similar. It wasn't and was all new compositions by AW so I was a bit disappointed on first listening.

Barrios' music was never Scottish flavoured but some of his outfits were as outlandish as Harry Lauder's.
| | |
| --- | --- |
| Tim posted on Tuesday, 24 January, 2006 - 12:04 am | |
Barrios was proud of his Guarani roots hence his appearance in Indian dress. Perhaps David Russell should show his pride in his Scottish roots and perform in a kilt (I'll let the ladies sit in the front row). What, I wonder, should JW wear?
| | |
| --- | --- |
| Bill D posted on Tuesday, 24 January, 2006 - 10:02 am | |
Altogether now...

A hat with corks dangling from it!
| | |
| --- | --- |
| Tim posted on Tuesday, 24 January, 2006 - 03:13 pm | |
Fair dinkum, cobber.

But why should he take all the corks out of bottles when he doesn't play bottleneck guitar.....
On some of the Magic Box numbers the percussion was played on a bottle. At one live performance they discovered that the bottle had been cleared away back-stage along with some glasses.
| | |
| --- | --- |
| Bill D posted on Wednesday, 25 January, 2006 - 10:11 am | |
Hmmm, JW playing slide?

Interesting idea. Just trying to picture him on the cover of his next album with a National guitar in hand.
| | |
| --- | --- |
| Tim posted on Wednesday, 25 January, 2006 - 01:45 pm | |
If he's in dire straits thinking of a title he could call the album 'Brothers in Amnesty International'...

Long, long time since I heard it, but wasn't Mike Oldfield's theme to the Killing Fields a two guitar arrangement of Recuerdos de la Alhambra? A two guitar arrangement of Sueno or Ultima Cancion with the high part played using a slide or bottleneck would be (erm) interesting.

Stefan Grossman had a lot to say about players who used copper bathroom fixtures rather than the neck of a bottle.
| | |
| --- | --- |
| Bill D posted on Wednesday, 25 January, 2006 - 03:31 pm | |
Copper is soft and is liable to leave deposits on the strings. I have seen other metal slides that looked like highly polished chrome but I don't know what they were really made of.
| | |
| --- | --- |
| Tim posted on Wednesday, 25 January, 2006 - 03:59 pm | |
Steel. Maybe some guitarists like copper to ward off arthritis (allegedly).
| | |
| --- | --- |
| Bill D posted on Thursday, 26 January, 2006 - 09:14 am | |
Well keep watching the BBC's series on alternative medicine and see if they debunk that. I had someone try to sell me magnetic insoles in America. Supposedly cure back problems! :-)
| | |
| --- | --- |
| Tricky posted on Thursday, 26 January, 2006 - 11:28 am | |
Magnetic insoles ? I can just imagine a railway worker walking the lines with a couple of pounds of iron dust stuck to each boot :-)
| | |
| --- | --- |
| Tim posted on Friday, 27 January, 2006 - 12:15 am | |
A busker might find magnetic insoles useful, tapping his foot on a guitar pick-up instead of a drum.

You won't need to wait for the Beeb to debunk copper bracelets - Arthritis sufferers have just as much copper in their bodies as the rest of the population.

Barrios, Barrios! Where are you?
| | |
| --- | --- |
| Bill D posted on Friday, 27 January, 2006 - 11:40 am | |
He's dead.

Never mind the dubious properties of copper bracelets. Calling out to dead people? Now that's weird. :-)
| | |
| --- | --- |
| Tim posted on Friday, 27 January, 2006 - 12:48 pm | |
Weird? Invoking spirits is normal in many cultures (like imbibing spirits is in others).

I could have been calling the cat in. Actually I wasn't - I've always baulked at naming a cat after a guitarist in case the poor moggy gets anxious about what it will be doing in its 10th life. Had I known about Barrios's steel strings earlier I needn't have worried.
| | |
| --- | --- |
| Tim posted on Sunday, 05 February, 2006 - 10:57 pm | |
Still no sign of Naxos releasing Barrios Vol 3. Their end of February releases will include a 3rd disc (mysteriously called Vol 2) of Argentine guitar music played by Victor Villadangos - guaranteed £5.99 spend for me on 27 Feb. If you don't know the first two discs, check them out.
I am trying to determine what "Estudio" John Williams is playing on his 1977 recording of "John Williams Plays Barrios". It is two cuts before "Sueno" on the A side of the cassette. I want to buy the sheet but Barrios composed numerous Studies and the liner says only "Estudio". I would be grateful for any help you Barrios lovers (and Williams fans) can be. Is it the arpeggio study?

Thanks!
| | |
| --- | --- |
| colin white posted on Thursday, 16 March, 2006 - 04:38 pm | |
I'm behind the times here. I've just read that stuff from early Dec 05 about JW playing high (?too high) notes on the 19th or whatever fret. I remember seeing him play some Barrios piece with tremolo a few years ago and he explained that one of the notes was too high for the guitar so in the studio he tuned his string up and edited that bit in; in the concert he simply missed out the high note, playing a lower note instead. "So now you know"- quote. Does that clarify anything, or is this discussion dead?
| | |
| --- | --- |
| Tim posted on Thursday, 16 March, 2006 - 05:10 pm | |
Thanks for that Colin. That would be Sueno you saw him play - Ultima Cancion ('Una Limosna....') doesn't need the high C and that's the only other Barrios tremolo I think JW has ever played or recorded. I've been meaning to post again about this - take a listen to all the recordings you can of Sueno, about the four and a half minute mark where the high C is used. Some recording have a high C (JW's '77 and GP for example), others play a melodic variation which fits harmonically.

If you want the sheet music for that Barrios estudio buy Rico Stover's complete Barrios and it's bound to be in there (plus a lot more besides). Some editions give Barrios studies numbers, but Barrios himself never did. Interestingly Valses Op 8 Nos 3 & 4 were numbered, but not Nos 1 or 2....
Tim:

Thanks for the suggestion about how to get the Barrios Estudio - I did determine that it is Estudio de Concierto.
| | |
| --- | --- |
| Tim posted on Tuesday, 21 March, 2006 - 12:26 am | |
You can get the Estudio de Concierto as a free score through the discussion forum at delcamp.net
| | |
| --- | --- |
| Tim posted on Wednesday, 29 March, 2006 - 09:46 pm | |
Take a look at this thread ('Segovia Stories')on http://www.delcamp.net/forum/en/viewtopic.php?t=5440, follow the link in it to 'all about Barrios' and then the link in that thread to a different site's discussion.

Fascinating stuff.
| | |
| --- | --- |
| Richard posted on Saturday, 15 July, 2006 - 07:00 pm | |
I've spent a chunk of the day trying to catch up on the board since I last had a chance to read it properly (last September!) and a considerable amount of that time has been spent on this thread alone.


® whoosh <- most of this thread
.O <- my head
/¦\ <- me
./\


:-)

Just to add what's already been said, JW plays Sueno... live fairly frequently and I've heard him explain about that top note at least twice, so the recording definitely uses studio tricks.

I'm sure there was something else I wanted to add, but I really can't remember what it was...
Back to top