Message/Author
| | |
| --- | --- |
| Tricky posted on Wednesday, 05 October, 2005 - 07:53 pm | |
I managed to download a vhs rip of the UK Gold transmission of Sky playing Toccata. A few seconds are missing from the start, and more than a few from the end. It appears to have been transmitted this way. Still, it was nice to see again. Big grins all round, and Tristan Fry really pounding the drums!

Pity the BBC won't open up their archives (Grrr...)
| | |
| --- | --- |
| Bill D posted on Wednesday, 05 October, 2005 - 09:28 pm | |
Bugger. Missed it again.

I also missed a certain repeat of Busman's Holiday on UK Gold a few years ago (because I didn't have Sky at the time). I was on it, as team captain of the "Biotechnologists".

Sarah Kennedy did the show at that time. After I came back from the toilet, my team-mates said "Sarah wants to see you in her dressing room".

I thought they were winding me up but they weren't. Turned out to be innocent. And I thought it was my manly charms.
| | |
| --- | --- |
| Tricky posted on Thursday, 06 October, 2005 - 04:25 pm | |
Just for you, Bill, being as you keep missing it :-)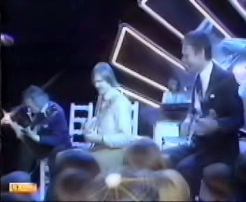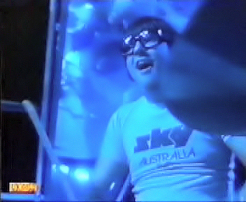 The quality is poor and whoever made it has spoiled it by overlaying "jeffz videoz" for a couple of seconds in the maddle of the clip. Chris has said, somewhwere else on this site, a friend of his has this clip on a DVD. Hmmmm. I wonder if he can borrow it....
| | |
| --- | --- |
| Chris posted on Thursday, 06 October, 2005 - 10:18 pm | |
Tricky,

Looking at those screen grabs - I don't think the version my friend has is the same. I'm sure I'd have remembered Tristan's T-shirt!!!! Perhaps it is...dunno. But, yes, I can certainly get a copy on DVD. His copy begins with Dave Lee Travis, I think, introducing the band.

He has just bought a new Panasonic DVD/hard-drive recorder, strangely enough, (maybe the same one as has been mention in other threads?), so next time I see him (probably Monday) I shall ask him for a copy on DVD. Actually, I might get the whole edition copied. If you email me your address, I'll stick it in the post as and when...

Chris
| | |
| --- | --- |
| Chris posted on Saturday, 05 November, 2005 - 01:24 am | |
Tricky,

Just picked up my DVD copy of sky on TOTP from my friend Paul and, amazingly, it ISN'T the one I saw at his house a few months ago - it's the one featured in your screen captures above!! So, unbeknown to either of us, Paul has TWO performances of sky on TOTP!!!

The quality is not too bad, although there is a glitch at the very start. What's interesting is that the presenter (dunno who this would have been) refers to Toccata as 'Toccato'. It fades out before the end, but at a point after the fade out of the other one I mentioned. The other one began with an onscreen intro by Dave Lee Travis - whilst this one begins with some intro dialogue over the first few notes of the harpsichord solo.

Anyway, what all this means is... I shall try to get the 'other' TOTP performance recorded as well, as and when I can!

I shall bung this one in the post to you, as although you already have a version of it, this may be slightly better quality than your existing one and there's no amateurish captions inserted midway.

Leave it with me and I shall get it sorted. I also plan to copy some other clips from Betamax onto DVD, which I shall also make available (free, of course) for anyone that wants them.
| | |
| --- | --- |
| Tricky posted on Saturday, 05 November, 2005 - 10:21 am | |
Many thanks Chris! This is very much appreciated. Many thanks to your friend Paul too, for making it available.

Youíve also cleared up a mystery for me, because, despite all the available info saying Sky only appeared once on TOTP, Iíve always been sure they were on twice.

Iím glad I put the pics up now. Other clips? Betamax? Chris, youíre a goldmine! - No pun intended Ė re:- UK Gold :-)
| | |
| --- | --- |
| Chris posted on Sunday, 06 November, 2005 - 03:11 pm | |
Tricky,

The DVD of sky on TOTP is in the post to you - although I suspect it'll be Tuesday before you receive it. Hope it's OK.

I've been called alot of things in my time (almost 42 years now!!), but Goldmine hasn't normally been one of them!

Actually... Just remembered, when I was at college (doing media, of course), I wrote an essay about the representation of women in the television programmes of Gerry Anderson. I know, heady stuff. And as I recall my tutor, Debbie, wrote something on it like, 'Chris, you're a goldmine of trivia'. I'm sure it was meant as a compliment! I reworked it as an article which appeared on a sci-fi website, sadly now defunct.

Anyway, I digress. A few other two syllable words spring to mind, often in conjunction with one another, but they've usually been inaccurate. Usually...
| | |
| --- | --- |
| Tricky posted on Sunday, 06 November, 2005 - 04:43 pm | |
Thanks Chris. A few two syllable words ? - I think I know the ones you mean. I've sometimes had to google to find the meaning of the rarer and foreign ones :-)

There's a small chance that in the next week or so I may be able to get my hands on the Wienybuds Videostar tape that Richard mentions in the compilations. If so, this will be converted to DVD....... (Shhhh! don't jinx it!)
| | |
| --- | --- |
| Tricky posted on Tuesday, 08 November, 2005 - 10:32 am | |
The DVD's arrived. Thanks Chris. It'll be interesting to see the other one too. Now if the Videostars works out.... (Shhhh!)
| | |
| --- | --- |
| Chris posted on Tuesday, 08 November, 2005 - 04:04 pm | |
Great.

Be interested to know how the quality compares to the one you already had. Not much in it, I don't suppose. I shall endeavour to get DVD copies of the other bits and pieces I mentioned.

I would also be more than a little interested in seeing the Videostars video...

;0)
| | |
| --- | --- |
| Tricky posted on Tuesday, 08 November, 2005 - 10:42 pm | |
You can't really make too much of a direct comparison between them but I'll try. I've played both back on through a big CRT-TV as well as through the PC on a TFT monitor. TFT screens really show any flaws. The DVD looks reasonable enough on the TV - about what you would expect of VHS (Betamax ?). The contrast seems too high during "Toccato" :-) but reduces later in the show. You could be forgiven for thinking the BBC had done this deliberately. Their "special effects" in those days were, well....

(Ex) Senior Quality Control Technicians critical review: (no mercy!)

Resolution:
DVD: 704 x 576 (PAL - High Quality)
Clip: 352 x 288 - and it shows ¶-(

Sharpness:
DVD: Too much contrast. (At least the digital info is already there. This would far easier to correct than too little contrast). The "UK Gold" logo is easily read at a distance - even with my eyes.
Clip: Far too 'soft' and blurred. I had to enhance the pics (above) quite a lot to make them presentable. You have to imagine the "UK Gold" logo.

Clarity:
The DVD is far superior. Both have the typical 'interference' that you get with VHS transfers, but it's less noticeable on the DVD.

Synch lines:
When played back on a PC, both have synch lines all around the 'viewable' area. They could be removed with any half-decent video editing software. They aren't visible on a TV because of the way TVs automatically discard information they don't 'understand', and crop the top / bottom few lines anyway.

Colour bleeding:
Both have it at the start when the camera is on Francis. As the clip and DVD are from different sources, it makes me wonder whether this was a camera or master tape artefact ???

Other:
DVD - no stupid "jeffs vidz" overlaid in the maddle (not quite the middle) of the show.

Conclusions:
Would it be worth cutting the ads etc? - wait, wait... gold and pink lame hotpants.... back later.....
| | |
| --- | --- |
| Tricky posted on Friday, 07 April, 2006 - 09:41 am | |
The plot thickens... or curdles slightly anyway. Spotted this - http://www.videoclips.tvheaven.com/custom4.html while trawling for any other Sky stuff that might be out there. About half way down the page are 2 listings of Sky on Top of the Pops - interestingly titled "SKY (Ft Herbie Flowers)" - with different reference numbers. Other interesting stuff on there too.
| | |
| --- | --- |
| Chris posted on Saturday, 08 April, 2006 - 12:01 am | |
Wow! Thanks, Tricky! Toccata from Musicladen, eh? Also noticed a wealth of Shadows stuff there too. I think there is a very good chance that I will be making further enquiries...

;0)
| | |
| --- | --- |
| Tricky posted on Monday, 10 April, 2006 - 10:40 am | |
Just emailed them with a few queries. Maybe it's just my natural cynicism but "the quality of the reply, if any, will indicate their integrity..."
| | |
| --- | --- |
| Tricky posted on Saturday, 15 April, 2006 - 10:54 am | |
Excellent reply, communications and professional quality of service. Highly recommended. A++++. Will deal with again. (Sounds like ebay, doesn't it?).

Recognise this one Chris? or is there a third TotP vid out there?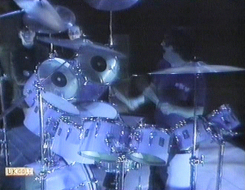 How many drums... :-)

And finally, a pic from Sky playing Toccata on Musikladen. It sounds almost military... (I stand by my ethnic slur...)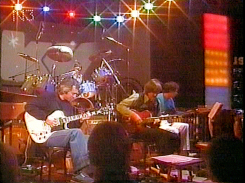 What guitar is JW playing... :-)
| | |
| --- | --- |
| Chris posted on Saturday, 15 April, 2006 - 12:25 pm | |
That's strange; I've never seen JW play (or mime with) an electric guitar on Toccata before! Could it possibly be the Gibson RD77 Artist, that is mentioned in the notes in the first sky tour programme?

I will have to check the other recordings to see whether or not there is, indeed, a third TOTP performance of Toccata. I suspect that there isn't and that the cap is from one of the two I mentioned that my friend Paul has on DVD. I shall be watching Doctor Who there this evening, so I shall remind him to dig them out!
| | |
| --- | --- |
| Chris posted on Saturday, 15 April, 2006 - 12:29 pm | |
P.S. How many drums? I make it eleven! But it could be twelve!!! Nine mounted tom-toms that I can see (and there might be a tenth - a floor tom - slightly obscured!). Plus bass drum and snare. WOW! How many arms has this guy got!!!
| | |
| --- | --- |
| Tricky posted on Saturday, 15 April, 2006 - 01:14 pm | |
No miming involved at Musikladen! There's LOTS of flubs!

Chris, Myke - check your email!

Did Herbie only ever own one pullover? The quiz goes on...... :-)
| | |
| --- | --- |
| Herbert Skardon posted on Saturday, 15 April, 2006 - 06:42 pm | |
To clarify Sky TOTP appearances, according to the TOTP2 website http://www.bbc.co.uk/totp2/ (in my experience pretty accurate) Sky performed Toccata on 10th April, 1980 (with Simon Bates as compere) and on 24th April, 1980 (with Steve Wright as compere).

Hope this helps.

Cheers,
Herbert
| | |
| --- | --- |
| Tricky posted on Tuesday, 18 April, 2006 - 10:30 am | |
Thanks Herbert, Steve Wright is the DJ who mispronounces Toccata as "Toccato". All these clips fade out at around 3.5 - 4 minutes, probably due to the allowable "on air" time. Toccata is almost 5 minutes long. If only DJs didnít suffer so much from verbal dhiarrhea...
| | |
| --- | --- |
| Chris posted on Wednesday, 19 April, 2006 - 05:06 pm | |
Thanks to Tricky, I now have a DVD of the Toccata performances as mentioned above. I agree that it's so annoying that none of them is actually allowed to continue to its natural conclusion. However, it's great to see these clips (and the others on the DVD) again and, in some cases, for the first time!

Of particular interest and note, I think, is the obviously 'live' performance of Toccata from Musikladen. What is intriguing about this is that it is one of the earlier variations on the arrangement (as mentioned in the sky2 sleeve notes) - the one where the drums come in much sooner. Also of note is the fact that this was obviously recorded at the same time as the 1979 performance that was recently released on DVD. Just look at the clothes, hair styles, instrument set up, etc... So, what Musikladen obviously did was to show this clip in 1980 after sky entered the charts with Toccata. Thus the sky2 logo is superimposed over the beginning and end of the performance. It's an incredibly 'lively' performance and, yes, JW does play his electric guitar instead of the classical and Francis does the fast synth runs on the harpsichord instead!

What all this means is that there must be a much longer version of the Musikladen 'concert' out there somewhere - possibly unedited and unbroadcast in its original form. What a find that would be!
Back to top