Steve Gray
Piano, Keyboards (and Sax!, 1981-1994)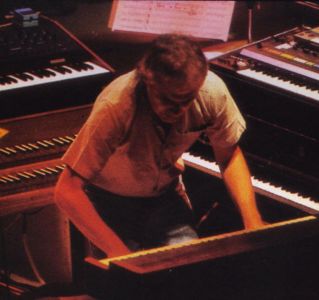 "When I was 12, and had been playing the piano for 2 years, I was asked if I should like to join the Middlesbrough Municipal Junior Orchestra.

Unfortunately they hadn't a vacancy for a pianist so I became the second bassoon. My talent as a bassoonist led to my being promoted to third saxophone (baritone) and finally principal (and only) trombone. (The trombone section was re-named 'The Silent Service). During my stay in the saxes the section leader was Ron Aspery, who later founded the influential blues group 'Back Door' and who gave me the scar that can be seen at the top of my nose to this day. I asked him if he would like to join my band.
"Who's in it?" he asked.
"Me and you"
Later we enlarged the band by 50% with the addition of Malcolm Cope, who had a trumpet, and we built up a repertoire of the popular songs of the day; such as 'Softly, Softly', a hit for Ruby Murray, who is now famous as the rhyming slang for curry. The professional world beckoned, and I became, from Mondays to Fridays, the pianist in the orchestra of the Middlesbrough Empire; and at weekends the bandleader at the Kirklevington Country Club: an arrangement which baffled the artists appearing at the Empire who found themselves faced with the necessity of a full-scale rehearsal on the Saturday for the benefit of the pianist coming in for that evening.
This situation couldn't last, and so I left home, played in some bands, got into session work, joined SKY and lived happily ever after."
Since Sky's demise, Steve has maintained a busy compositional schedule, including a guitar concerto and other arrangements for John Williams. He's not very often seen on stage.
Francis Monkman
Piano, Keyboards (and Guitar!, 1979-1980)
See here for more.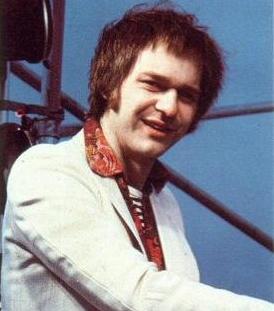 Francis went to Westminster School where he studied organ and harpsichord. During this time his first musical ambition blossomed; that of conducting a Mozart opera. In 1967 he started three yeats of study at the Royal Academy of Music. He took as his first subject the harpsichord, receiving the Raymond Russet Prize for that instrument, and while at the Academy he also took up electric guitar.
In 1970 Francis formed Curved Air', which evolved from the group "Sisyphus". They signed a recording deal With WEA Records and had three albums released, the first being 'Air Conditioning'. With "Curved Air" he toured all over Europe and the USA to great and enduring acclaim. Francis started doing session work whilst still at the Royal Academy and consequently he has wotked with many of the top recording and performing artists in the UK — The Shadows, David Essex, Paul Nicholas, Kate Bush and Steve Harley amongst them. He also continued to give highly acclaimed classical concerts at the Royal Albert Hall, The South Bank and the Purcell Room. He is an extremely original and accomplished consposer and has written and performed jingles, library albums and gramophone singles. Francis was introduced and recommended to John Williams by Stanley Myers and subsequently Francis played on John's 'Travelling' album. It was at this time that a relationship was estabiished which finally has culminated in Sky.
Francis and two partners also formed their own music production company, Crocodile, which is primarily concerned with music for television and radio commercials.
Francis left Sky in the summer of 1980 to pursue other interests following the success of his score for the film 'The Long Good Friday'. He released a solo album, 'Dweller on the Threshold', which regrettably pretty much sank without a trace. He remained active in classical keyboard music, especially harsichord and organ and played concerts up and down the country. In 1999, he released his latest creation, 21st Century Blues, from which you can hear extracts on his own web site. (And don't forget to buy the CD!).
Kevin Peek
Electric and Acoustic Guitars (1979-1985)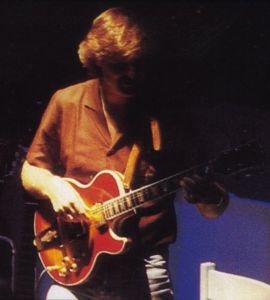 Kevin was born and brought up in Adelaide, Australia. He left for England in 1965 and basically remained domiciled in London until 1982 when he returned to Australia. He studied music in from the age of seven -his first studies being in the full range of orchestral percussion instruments plus jazz drumming, vibraphone and general music theory. Studies on guitar commenced when he was twelve and, for a while did this in tandem with continuing studies in percussion. By the age of fifteen his love of the guitar had completely taken over and Kevin Peek ceased any further work on percussion from that time on. After leaving school he worked in Adelaide for a few years playing guitar in various rock and jazz bands until departing for England.
During his entire time in England, Kevin worked as a self-employed professional musician - mainly as a recording "session" musician - but also undertook concert tours from time to time. In the course of such work he performed at live concerts, on radio broadcasts, on television broadcasts and on commercial recordings with many internationally known orchestras, instrumentalists, groups and singers - as well as recording, broadcasting and performing in concert in his own right.
Artists he's recorded with include: Cliff Richard, Olivia Newton-John, John Williams, The New Seekers, Lulu, Cilla Black, Chris Rea, Elton John, Manfred Mann, Peter Skellern, Shirley Bassey, Mary Hopkins, Rick Wakeman, Alan Parsons Project, Jeff Wayne, Roger Daltry, Mel Torme, The Shadows, Hank Marvin, Neil Diamond, Val Doonican and many, many others - as well as orchestras such as the London Symphony Orchestra and the Royal Philharmonic Orchestra.
Kevin is currently active within the field of music composition, recording and production for film and television and is constantly expanding the list of works completed in those media.


John Williams

See my other site.