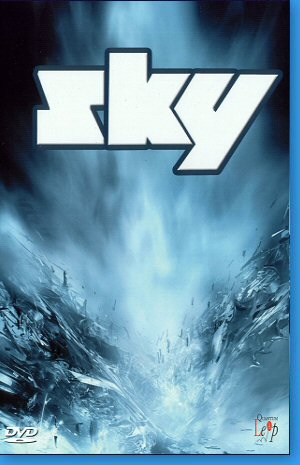 Released: July 2005
Recorded: I say 1979, the DVD says 1980...
Availability: Right now from publishers Quantum Leap (type sky into the "search" box - it's not the easiest site to navigate or link to!), or from 25th July everywhere else.
In the spring of 1979, before embarking on their first UK tour, Sky performed a one-off gig in Bremen, Germany, which, among other things, was a test of the technical aspects of their proposed stage show. All of that is by way of an introduction which may or may not be relevant to this DVD...
The cover of this DVD states that this performance was filmed in 1980. The best information I have is that Sky never appeared on stage in Germany in 1980 until their first European tour in the autumn of that year, after they had a significant hit with Toccata in June. Despite my further comments, I find it highly unlikely under the circumstances that this gig would have been aired without the inclusion of Toccata at that time.
Controversy about exactly when this gig took place aside, let's look at the contents.
The nice people at Quantum Leap have done as good a job as could be expected with transferring the recording to DVD. The picture quality is as crisp as one could hope, and while the sound is a little flat at times, this is down to the original recording rather than any problems with the terrific Digital Stereo conversion.
The menu system is clear, with the main screen (discretely animated, with Danza playing in the background) offering options to view the concert, select tracks, view band members' biographies or an overview of their recording career (not as complete as that on this site, of course!), and some Quantum Leap "propaganda" (their words, not mine!).
The track selection screen is where I have a few problems, not with the design, but the content, as there has been a mis-communication somewhere and the track list is wrong. Very wrong. I won't dwell on the typos (track 2 should be Carillon not Carillion) and could go on for hours about the fact that the back cover calls track 5 Gymnopedia No. 1, the menu calls it Gymnopede No.1, while the piece is called Gymnopedie No.1, but I won't...
Far more important is the fact that however you want to (mis)spell them, neither of those tracks are what the text say they are.
Here's the track selection menu and my list of what it should be:
Westway Flowers/Monkman

(La) Danza Pipo, arr. Peek

Cavatina Myers

Cannonball Monkman

Dance of the Little Fairies Flowers

Carillon Flowers/Gomm

Where Opposites Meet 1-5 Monkman

In other words, don't believe the menu, and except for the first and last pieces, be prepared to be surprised! (I'd also make it clear that Gymnopedie No. 1 isn't actually included on this recording).
Now on to the gig itself. I won't comment on the quality of the performances themselves: we know what to expect and the guys are really on top form.
I wish I could say the same for the people who shot, edited and directed the original film. This isn't a criticism of the transfer quality: as said above, Quantum have done a great job.
The studio (at least, I assume it was filmed in a TV studio rather than a concert venue) is so small that it seems it was impossible to get one of the standard shots one expects on any concert recording: a view of the whole stage over the heads of the audience. Accordingly, there isn't a single wide shot of the stage to include all the performers (to be fair, there are a few shots taken from Francis's or Herbie's end of the stage which manage to fit almost everyone in). There is also some bizarre shot selection going on (e.g. close-ups of a performer doing nothing while someone else is in the middle of a solo), and some particularly wobbly camera work.
Most people don't like or don't care about programme credits, but I generally find them interesting - I was surprised to find none at all here, so I can't blame anyone by name for those shortcomings.
By the signs visible all over the studio, this gig was filmed for German TV show Musik Laden. It's obvious that not all of the gig made it to the final edit: Herbie's tuba is visible next to him for most of the show, as is a set of kettle drums: it's a pity that Tristan's Magic Garden (for the playing of which I assume the timpani were shipped over) wasn't included. Regardless of when this gig took place, it's also a little strange that Toccata didn't make the final show either. It had always been part of Sky's stage show, and Musik Laden did show the band playing it during the single's rise up the charts. At the very least, I would have expected it to have been added on to this DVD, if not as part of the main track menu, then as a special bonus. The 43-minute running time certainly would've permitted it.
One final comment: from some of the audience shots, it's clear to me that not everyone enjoyed themselves: several people resolutely refuse to applaud at appropriate moments, sitting there with their hands folded tight while all around them are clapping (in many cases, clearly out of politeness rather than any sense of enjoyment). It's also clear towards the end of the show that empty seats are showing up here and there... It's therefore obvious to me that nobody in the audience had any idea what to expect and this is yet another reason why I suspect that this is indeed the "lost" gig recording from before the first Sky album was ever released, rather than from 1980, when most members of the audience would have had some idea of what to expect from John Williams' latest group effort.
I'm suffering from technical problems and can't provide any audio clips right now, but in the meantime, here is a short clip from Westway (in Windows Media format - 1.8MB). If I don't get reports of people having trouble with this file, I'll do some more. (I suggest you right-click on that link and "save target" rather than play it from the server - especially if you're on a dialup internet connection.