The Albums
The Singles
Compilations
The Band
The Gigs
The Story of Sky
Forum
Extras
Contact
Home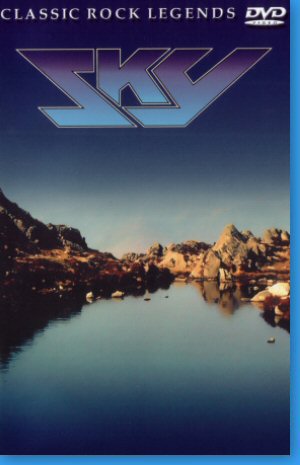 Released: Spring 2001
On 24th June 1990, the band performed a one-off concert at the London Palladium (presumably to drum up support for the Classic Sky compilation, just released, and to guage interest in releasing the back catalogue on CD). During the gig, they played several new pieces (by Herbie, Steve, Kevin and Paul, although Praeludium had already been included in gigs which had featured Paul as a guest member). Much to my chagrin (I was there at the Palladium, of course!) this concert was not recorded (sound or video), but the band were later invited by Central Televion to perform the gig again at their studios in Nottingham to be recorded and shown as part of Central TV's "Bedrock" series of late-night concerts. An edited version of the gig was shown on TV in the Midlands in the summer of 1991.
In 2001, the Classic Rock Legends label released the (edited) concert on DVD, and a year later as a two-disk set consisting of the original DVD and an audio-only CD of the same material. You can buy the DVD by clicking on the link above (as I type, it is available for only £3.99!). The two-disk set is not currently on sale, but copies are frequently floating around on eBay.
Running order is as follows. Click on the title for an MP3 extract of each track.
Son of Hotta (Gray)
Cannonball (Monkman)
Jehad (Peek)
Reverie (Hart)
Meheeco (Flowers/Gray)
Would You Say I'm In love With You (Flowers/Cook)
Praeludium (Hart)
Hotta (Flowers/Peek)