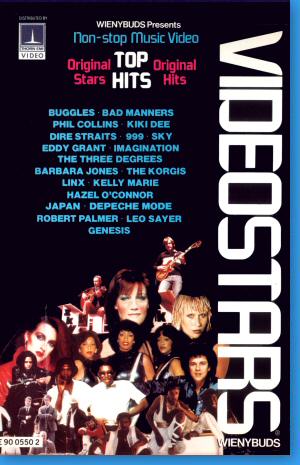 Released: 1981
Availability: Don't even ask.
I always swore that I wouldn't include multi-artist compilations on this web site. They are the bane of the recording artist's life (although record companies absolutely love them) and are generally more trouble than they're worth.
I will make one exception with regard to this item, mainly because it's not only out of print, but pretty much downright obsolete. And it's nice to be able to crow... As to why the heck I'm including this at all, look on the cover (above) at the two figures immediately beneath the blue text listing the contributors to either side of the woman's face.
This VHS video, released in 1981, includes video promos of some of the greatest hits of 1980, including such unforgettable tracks as Star by Kiki Dee, Feels Like I'm In Love by Kelly Marie and Obsessed by 999.
The very last track is the one of interest to us, being a studio-based recording of the band playing Toccata, their biggest hit. Lots of grinning and staring straight into the camera makes me laugh every time I see it (like right now, as I type these words...). I must say, though, that it's very well edited and there are some terrific ultra-closeups of the performers' hands. Oh, and the big bass drum has a Sky logo on it, which I never saw used on stage.
I'm suffering from technical problems and am currently not in a position to provide any clips or screen shots right now. I do hope to rectify this at some stage, though.