The Albums
The Singles
Compilations
The Band
The Gigs
The Story of Sky
Forum
Extras
Contact
Home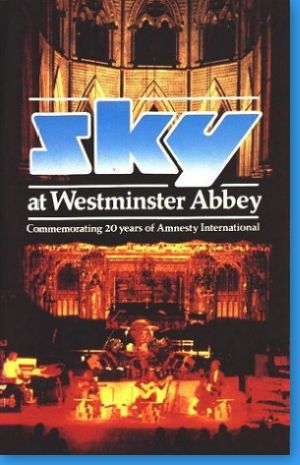 Released: Spring 1982
On 24th February 1981, the band performed the only concert ever to be staged at Westminster Abbey. Billed as a commemoration of the 30th Anniversary of human rights organisation Amnesty International, it was also the launch of Sky 3. Most of the pieces performed were, therefore, from that album.
It was recorded by the BBC for TV transmission, but was also released for sale on VHS video and Laserdisc. Curiously for a video of music, the video was released with mono sound! However, the Laserdisc features a stereo soundtrack. It was never a great commercial success and after a short shelf-life was deleted from the BBC catalogue. It's rarer than gold-dust and it's extremely unlikely that you'll ever find the video in any shop, although the Laserdisc turns up in specialist shops every now and again.
As a live concert, it was very well presented. The recording, on the other hand, looks like it was edited by amateurs rather than one of the world's foremost broadcasting institutions. Running order of the video. The titles in white text are links to short Real Video excerpts.
The Grace (Flowers)
Chiropodie No. 1 (Peek/Flowers)
Sarabande (Handel, Arr. Williams)
Sahara (Peek)
Recuerdos de la Alhambra (Tarrega, Arr. Williams)
Dance of the Little Fairies (Flowers)
FIFO (Monkman)
The Swan (saint-Saens, Arr. Fry)
The Whale (Flowers)
Scipio (Flowers)
Hello (Gray)
Hotta (Flowers/Peek)
Keep Me Safe And Keep Me Warm, Shelter Me From Darkness (Flowers)
Toccata (Bach, Arr. Peek)