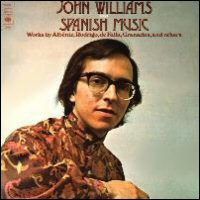 CBS MS 72860 (UK)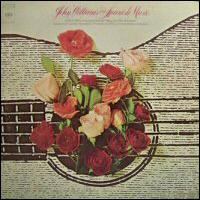 Columbia M30057 (USA)

John Williams Plays Spanish Music

Recorded 1969
Released 1970
Producer: Paul Myers
Engineers: Michael Hall, Mark Sutton

Isaac Albéniz: Asturias Cantos de España, Op. 232, No. 1 [06.17]
Isaac Albéniz: Tango Hojas de album, Op. 165 "España" No. 2 [02.45]
Gaspar Sanz: Canarios [01.19]
Joaquín Rodrigo: Fandango Piezas españolas No. 1 [03.42]
Federico Moreno Torroba: Nocturno [03.29]
Enrique Granados: Valses Poéticos Tr. Williams [07.38]


Matteo Pérez de Albéniz: Sonata in D, Op. 13 Tr. Williams [03.10]
Manuel De Falla: The Three Cornered Hat Tr. Williams
Danse du Corregidor [01.45]
Fisherman's Song [02.28]
The Miller's Dance [02.17]

Federico Moreno Torroba: Madroños [02.43]
Trad. Catalan: La nit de Nadal Tr. Llobet [01.10]
Trad. Catalan: El Noy de la Mare Tr. Llobet [02.45]
Enrique Granados: La Maya de Goya Tonadillas No. 7 [03.40]
Isaac Albéniz: Córdoba Cantos de España, Op. 232, No. 4 Tr. Williams [06.40]
Re-issue Notes:
Tracks from this recording appear on the following LP Compilations:
Greatest Hits-The Guitar (1972) includes Asturias and Tango
John Williams' Greatest Hits (1974) includes Asturias, The Miller's Dance, and El Noy de la Mare
John Williams Collection includes Asturias, La Maya de Goya and the Albéniz Sonata
Recollections (1979) includes Tango and Madroños
The Guitar Music of John Williams (1980) includes Asturias, Tango and The Miller's Dance
Le Grand Classique (1986) includes Asturias, The Miller's Dance and Canarios

All of this album's tracks are available on CD, although not all together:

Spanish Guitar Favourites (1989) includes all but the Sanz and Tórroba pieces;
Spanish Guitar Music (1990) includes all but the Granados Valses Poéticos;
Tango is also included on The Golden Guitar (1989).
It should also be noted that John Williams' own transcription of the Valses Poéticos recorded here is incomplete (Introduction, waltzes 1, 3, 4 and Finale), as admitted in the sleeve notes. In 1991, he re-visited the piece and recorded the complete work on Iberia.