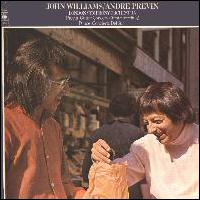 CBS 73060 (UK)
Released 1972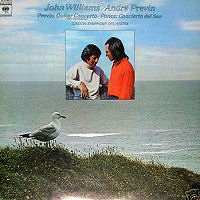 Columbia M31963 (USA)
Released 1973

Previn and Ponce Concertos
Recorded October 1971 (Previn),
July 1972 (Ponce)

Producer: Paul Myers
Engineers: Michael Gray, Mike FitzHenry

With London Symphony Orchestra
Andr&eacute Previn Cond.

André Previn: Concerto for Guitar and Orchestra <!!-- [23.53] --!!>
Allegretto [05.50]
Adagio [10.02]
Andante [08.01]


Manuel Maria Ponce: Concerto del Sur <!!-- [24.39] --!!>
Allegretto [12:19]
Andante [6:46]
Allegro Moderato E Festivo [5:34]

Re-issue Notes:
The Previn is finally available on Andre Previn 80th Birthday Celebration on CD.
The Ponce is available on The Great Guitar Concertos on CD.
Note: This recording was nominated for a Grammy in 1973 in the category Best Classical Performance - Instrumental Soloist(s) with Orchestra