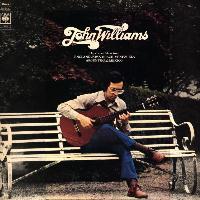 Music from England,
Japan, Brazil, Venezuela,
Argentina and Mexico

CBS M 73205
Released 1973
Recorded London, June 1973

Producer: Paul Myers
Engineer: Mike Ross-Trevor

Yuqijiro Yocoh: Theme and Variations on Japanese folk song Sakura [06.36]
Stephen Dodgson: Fantasy-Divisions [07.44]
Manuel Ponce: Sonatina meridional [09.14]
Campo
Compla
Fiesta


Heitor Villa-Lobos: Chôros No. 1 [04.28]
Antonio Lauro: Vals Criollo [02.46]
Jorge Gomez Crespo: Norteña Ed. Segovia [03.53]
Vicente Emilio Sojo: Five Pieces [05.32]
Cántico
Cantemos, Cantemos (Aguinaldo)
Si de noche ves que brillan (Canción)
Malhaya la cocina (Galerón)
Ave Maria Que muchacho! (Aire Venezolano)

Barrios: Danza Paraguaya [02.50]
Re-issue Notes:
John Williams has re-recorded most of the short pieces on this album since its publication.
Although one of the pieces not to have been re-recorded, this recording of Valse Criollo appears on two compilation LPs, John Williams' Greatest Hits (1974) and also on Recollections (1979).

The only recording on this album to have been issued on CD is the Dodgson Fantasy-Divisions, on English Guitar Music. Any appearances on CD of the other pieces represented here are from different recordings.