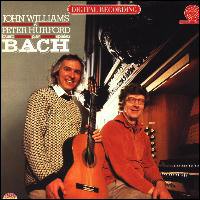 John Williams and Peter Hurford Play Bach


CBS 37250
Recorded February 1981 at
St. Catherine's College Chapel, Cambridge
Released 1981
Producer: Roy Emerson
Engineers: Mike Stavrou

with Peter Hurford, Organ

All compositions by Johann Sebastian Bach
Wachet auf! (Cantata BWV 140) Arr. Hurford [06.02]
The Gigue Fugue BWV 577 Arr. Williams [02.57]
Adagio from Sonata 4 for violin & Basso continuo BWV 1017 Arr. Hurford [03.11]
Trio Sonata No. 6 in G BWV 530 Arr. Williams
Vivace [03.39]
Lento [04.16]
Allegro [03.26]


First movement from Italian Concerto BWV 971 Arr. Hurford [04.05]
Adagio from Pastorale in F for Organ BWV 587 Arr. Hurford [03.43]
Trio in G BWV 1027A Arr. Williams [02.52]
Allemande from French Suite No. 6 BWV 817 Arr. Hurford 02.34]
Bourrée from English Suite No. 2 BWV 807 Arr. Hurford [01.29]
Gavotte & Musette from English Suite No. 3 BWV 808 Arr. Hurford [04.18]
Gigue from French Suite No. 5 BWV 816 Arr. Hurford [03.45]

Re-issue Notes


Bach Music For Lute Volume 2 features the following pieces from this LP recording:
Wachet auf!, Gigue Fugue BWV877, Trio Sonata No. 6 BWV530, Italian Concerto BWV971, Adagio from Sonata No. 4 BWV1017.
Wachet auf! is also included on The Golden Guitar (1989).

The remaining tracks remain to be issued on CD.