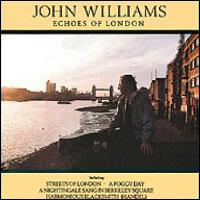 Echoes of London

CBS 42119
Released 1986
Recorded November 1985
Producer: John Williams
Engineer: Mike Ross-Trevor



The LP release featured arrangements by John Williams for solo guitar (or duet, John Williams playing second part on Martin Fleeson guitar) on Side A, while Side B featured arrangements by Steve Gray with orchestral accompaniment and conducted by William Goodchild.
Ralph McTell: Streets of London [03.30]
William Byrd: La Volta [02.03]
Henry Purcell: Air on a Ground Bass [02.30]
Alan Clare: Holland Park [03.02]
George Frederic Handel: Suite for Harpsichord in E major, HWV 430: no 3, Courante [03.14]
George Frederic Handel: Sarabande/Air [05.43]
George Frederic Handel: Harmonious Blacksmith [05.23]
Sir Edward Elgar: Salut d'Amour [02.49]


Sherwin Maschwitz: A Nightingale Sang in Berkeley Square [04.59]
Sandy Wilson: A Room in Bloomsbury [02.49]
Noel Coward: London Pride [04.09]
Goerge & Ira Gershwin: A Foggy Day in London [02.35]
Eric Coates: London by Night [04.29]
Hubert Gregg: Maybe It's Because I'm a Londoner [01.30]
Re-issue Notes:
This is the first John Williams album recording to receive a simultaneous release on all three major formats, vinyl LP, cassette and CD. A 7" single of Streets of London (which made no impact whatsoever on the charts) was also released at the same time.
All tracks on this album are also available on English Guitar Music (2000) (together with other items).
Streets of London is also included on The World of John Williams (1996);
Courante and Salut d'Amour are also available on The Ultimate Guitar Collection (2004).