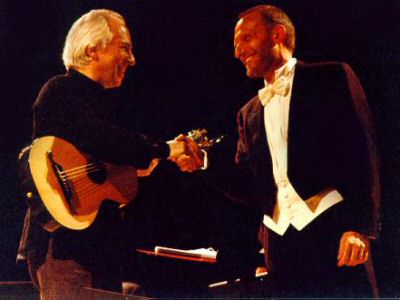 On 12 and 13 June 1998, John Williams appeared at the Vigevano Festival in Italy, performing the Giuliani Concerto in A. Ordinarily, I wouldn't devote a whole page on this site to a single a John Williams performance, but this one was special.
Daniele Russo, who attended the concert, sent me an email and photgraphs he took at the concert, which he has allowed me to use. He also included a photograph of himself with John Williams. (As he says, "The photo is really bad, but given the exceptionality of the event, I consider it more precious than a picture of a flying saucer featuring two ETs drinking Coca Cola. It's just to say it was true, I was really there!".)
Note: The remaining text on this page is what Daniele sent me, and not my words.
I think the most remarkable fact is that Williams gave a very philological interpretation of the Giuliani concerto, adopting a lot of tempo changes, freedoms and licenses, according to the late studies about the interpretation of 19th century music. This is also the first time John Williams plays in concert with a period instrument.
About this recital, Williams has given an interview to the italian magazine Suonare. Here's the translation of the part regarding the Vigevano recital:
Q. Tomorrow we will listen to the Giuliani concerto played on a period guitar. How did you get this idea?
A. This is the first time I have played it on a period instrument. Moreover, I have tried to be faithful to the original style. It happened thanks to the fact I met Carlo Barone some years ago in Darwin, Australia. Listening to his performance and to his introductory explanation was a new experience to me. Before then, I looked at Giuliani as an important 19th century guitarist who had composed some very fine pieces, but also a lot of banal music full of trivialities. When I listened to Carlo's explanations, I realized that those simple ideas and melodies are in fact delicious and fascinating. I recorded the Concerto more than thirty years ago [Ed: exactly 30 years ago: 1968!], and often performed it, but I had always considered it a little rigid , and consequently played it in a mechanical way: on the contrary it turned out to be a piece full of melodies and grace.
Q. Are you considering approaching the rest of the 19th century repertoire adopting a period technique?
A. At present, I have no projects on this subject. To be honest, I believe that the Op. 30 Concerto is the most beautiful and coherent one of that period. Until now, the other concertos haven't meant a lot for me. Also, I'm not a specialist, I don't focus my attention only on baroque or spanish music. I have a lot of projects- too many!- that explore other directions and different periods of music history.
Q. Apart from the period guitar, are there any alterations in the score too?
A. I play the complete piece, unedited, whereas the commonly performed version features an important cut in the first movement. That is in fact one of the most beautiful parts of the concerto.
Q. What guitar will you play?
A. It's a 1822 Guadagnini belonging to Carlo, equipped with nylon strings.
A few more of Daniele's photogaphs:
Programme notes
John Williams prepares to play
John Williams in action (1)
John Williams in action (2)
John Williams in action (3)
John Williams and his period guitar
John Williams, Carlo Barone and his period guitar