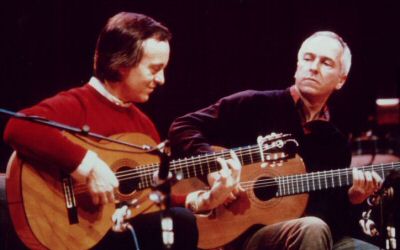 1990 opened with a European tour with Paco Peña and Inti Illimani, with the Köln concert recorded and proving to be the first John Williams album not released on LP. It also proved to be the last recording released on CBS Masterworks label, as during that year, CBS Records ceased to be, having been subsumed into Sony Corporation and renamed Sony Classical.
John Williams spent most of the year in Australia, touring with the Australian Chamber Orchestra and premiering Peter Sculthorpe's Second Guitar Concerto, written for him. In November, he celebrated the opening of the Hong Kong Cultural Centre with two concerts. He returned to England with the Orchestra, finishing the year with an appearance at the Barbican Centre and the Queen Elizabeth Hall, and returning to the Barbican with the Royal Philharmonic Orchestra. He made a coast-to-coast tour of the USA in the autumn of 1991 and played Vivaldi and Sculthorpe concertos with the ACO in a special gala concert at Carnegie Hall. In August, he recorded Steve Gray's arrangement of several pieces from Albéniz's Iberia suite which had not previously been seen as appropriate for guitar transcription.
During 1992 he formed a new ensemble, John Williams ATTACCA, constituting seven Australian and British musicians who toured the UK that summer, performing contemporary music especially commissioned for the ensemble. They then went on to tour Australia, culminating in a concert at the Sydney Opera House.
The 1992-1993 season saw extensive solo recital tours of the UK and the European premiere of a new work for guitar and orchestra by ATTACCA's Nigel Westlake at the Barbican with the London Symphony Orchestra and Kent Nagano. Antarctica is based on music Westlake had written for an IMAX movie about the frozen wastelands, and the piece is extremely evocative. The results of Williams' two-year return to his Australian roots have been immortalised in the From Australia CD recorded throughout that period and completed during 1994.
He also worked extensively on a documentary film about his life and work, which was shot on location in England, Australia and Spain, for London Weekend Television's South Bank Show. The resulting Film Profile is available on video and laser disc, including a complete live performance in Seville of the Seville Concert. The film included a visit to Williams' favourite luthier, Greg Smallman, in the Australian outback. Would YOU buy an expensive musical instrument from this man? Appearances can be deceptive...
The 1993-1994 season started with a UK tour with the Bournemouth Sinfonietta, premiering the Concerto Antico, written for him by John Williams and Friends collaborator Richard Harvey, while in February 1994, he gave a series of three contrasting recitals at the Wigmore Hall over a period of a week, repeated two months later in New York during his North American tour. These were designed to demonstrate the guitar's versatility and showcase Williams' own talent, being concerts of classical Baroque music, followed by Spanish and modern recitals.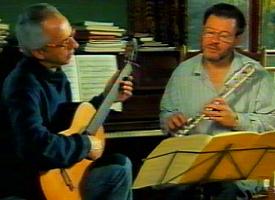 He continued with recitals with Sebastian Bell at the Barbican Centre, Glasgow Royal Concert Hall and Birmingham Symphony Hall, and a trip to Paraguay for events marking the 50th anniversary of the death of composer and guitarist, Augustin Barrios Mangoré. One of Williams' long-standing ambitions is to make a documentary for television about the composer and his life. While in South America, he received the Orden Andres Bello en la Clase Banda de Honor from the Venezuelan government for his championing not only of the region's music, but for his unstinting defence of human rights reforms.
During the summer of 1995 he toured Japan, playing recitals in Tokyo and Osaka, and visited the Darwin Guitar Festival, where he premiered fellow Australian Ross Edwards' first Guitar Concerto, in the grounds of the Darwin Casino! In Europe he performed in Barcelona and Amsterdam, followed by Greece, Scandinavia, England and Ireland, together with a return to the USA, including concerts in Chicago and at New York's Lincoln Center. He gave the London premiere of Richard Harvey's Concerto Antico at the Barbican with the London Symphony Orchestra conducted by Daniel Harding, which was recorded soon afterwards. He also renewed his acquaintance with George Martin and the Medici String Quartet, performing on their new album (produced by Martin). Interestingly, another of the guest artists on that album was Francis Monkman, who had worked with Williams before on many projects, including Sky.
The end of 1996 saw the release of John Williams Plays the Movies, a collection of mainly unremarkable arrangements of popular pieces of music and songs used for films. However, the recording does include a few gems, in the shape of his namesake's main theme for Schindler's List and haunting arrangements of Morricone. Some would insist that the World of John Williams compilation disc included as a bonus was more worthwhile...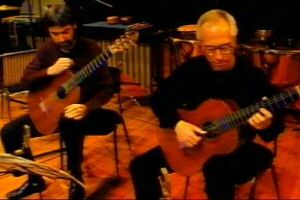 In April 1997 he appeared in a world-wide tour with his latest duo partner, Australian Timothy Kain (who was also a part of the ATTACCA project), with whom he had recorded The Mantis & The Moon, a varied but balanced recital of guitar music from all continents. In the summer he made a return to the Proms, this time with the solid and faithful Concierto de Aranjuez, with the Spanish National Youth Orchestra. He also found time to perform on Patrick Doyle's sountrack of Alfonso Cuaron's modern retelling of Great Expectations.
At the end of September, he embarked upon an educational tour of China with Gerald Garcia, whose illustrated diary of the trip can be read on Gerald's own web site. One famous incident during that tour which speaks volumes about John Williams' personality and priorities was when, at the end of the tour, he gave his Smallman guitar to Xuefei Yang, a gifted musician who was struggling to afford an instrument worthy of her talents. Xuefei has, of course, since created a major concert career and is now the owner of her own Smallman guitar. He travelled on for a short tour of Australia, including attending the International Festival in his Melbourne birthplace, where his performance was follwoed by an informal masterclass. On 21st October, he attended a special ceremony at the University of Melbourne to be awared an Honorary Doctorate in Music. The year ended with a recital tour of Germany and a tour of the west coast of the USA. The end of the year saw the release of his latest Sony Classical release, The Black Decameron, devoted to the music of Leo Brouwer.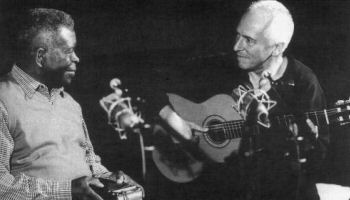 1998 started with another tour of Britain in February and continued with appearances at festivals in Brussels and Copenhagen, together with a return to the Darwin Festival. March and April were devoted to meetings with Cameroon musician Francis Bebey, which grew from an increasing passion for traditional African music and rhythms. The result of these and further meetings with Bebey and other African musicians and composers was not going to be seen or heard in public for another three years, with the release of The Magic Box in 2001, much more on which on the next page.
Much of May was spent in the recording studio working on The Guitarist, which was released in October, including a brand new John Williams composition, the Aeolian Suite, accompanied by a patchwork of pieces vaguely on a Mediterranean theme. In June, he appeared at the Vigevano Festival in Italy, at the invitation of its instigator and principal connductor, Carlo Barone. The centrepiece of the performances was the Mauro Giuliani Concerto in A Major Op. 30, which Williams had been encouraged to reinvestigate during meetings with Barone at the Darwin Festival. See this page for much more information, together with a photographs by one of this site's visitors, Daniele Russo. In December, he toured Australia with the Australian Chamber Orchestra playing the concerto, together with his own transcription of the Schubert Apreggione Sonata for Guitar and Orchestra, and just before Christmas both pieces were recorded, for release the following April.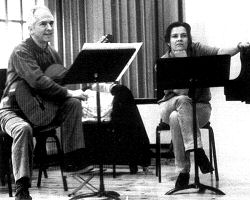 In February 1999, showing that his charity performances were not limited to international organisations like Amnesty International or Greenpeace, he gave a charity performance in a church near his home for a local organisation dealing with caring for the housebound (and their carers), Camden Housebound Link Services and Fleet Carers. During early May, he embarked on a concert tour of Spain, Germany and England with the Australian Chamber Orchestra, playing the Schubert and Giuliani, and in June he performed solo recitals at the Bath and Salisbury Music Festivals. He also participated in Jonathan Elias's meditation piece which Sony's marketing people desperately tried to squeeze into the "new millennium" feeling, The Prayer Cycle, and accompanied soprano Angelika Kirchschlager on her album of lullabies and nocturnes.
In July, he made his biennial visit to the Darwin International Guitar Festival, where apart from solo performances, he participated in open forums in the company of Sky collaborator Kevin Peek. In October, he made a featured appearance with the BBC Concert Orchestra in two concerts in London of film and television music, including selections from the 1996 John Williams Plays the Movies album and his own Aeolian Suite.
It could be assumed that, approaching the age of sixty, musical performers would start winding down, entrenching themselves in their core repertoire and taking things easy. But not John Williams...