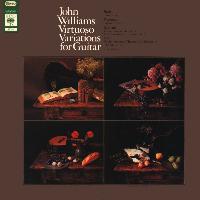 72728
Released 1969 (UK)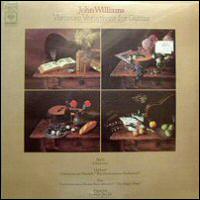 MS 7195
Released 1969 (US)

Virtuoso Variations For Guitar
CBS 72728 / MS 7195
Recorded New York,
November 1965
Released 1969
Producer: Paul Myers
Engineers: Fred Plaut, Ed Michalski

J.S. Bach: Chaconne (Violin Partita No. 2 in D Minor BWV 1004) Tr. Williams [13.48]
Robert Dowland: Queen Elizabeth, Her Galliard from Varietie of Lute Lessons [01.15]
Robert Dowland: Easrle of Essex, His Galliard from Varietie of Lute Lessons [01.55]
Daniel Batchelor: Mounsiers Almaine from Varietie of Lute Lessons [02.08]


Niccolò Paganini: Capriccio Op. 1 No. 24 Tr. Williams [06.51]
Mauro Giuliani: Variations on a Theme by G.F. Handel The Harmonious Blacksmith, Op. 107 Rev. Williams [06.40]
Fernando Sor: Variations on a Theme by W.A. Mozart Das Klinget so herrlich, Op. 9 Rev. Williams [06.13]
Re-Issue Notes:
Tracks from this recording appear on the following LP Compilations:
Greatest Hits/The Guitar (1972) includes Dowland Queen Elizabeth Galliard, and Sor Variations;
More Spanish Music and Other Favourites (1972) includes Sor Variations;
John Williams Collection (1978) includes Paganini Caprice;
John Williams Plays Paganini (1978) and The Guitar Music of John Williams (1980)
each include both Paganini Caprice, and Giuliani Variations.
The following CD re-issues include these recordings:
Bach Music For Lute Volume 2 (1996) includes Bach Chaconne;
English Guitar Music (2000) includes both Dowland pieces;
Guitar Recital (1996) includes both Paganini Caprice, and Giuliani Variations;
The Golden Guitar (1989) includes Paganini Caprice.

Whilst this recording of the Sor has never been issued on CD (surely an oversight?), an earlier recording (from John Williams' first album) is available. The Batchelor remains to be re-issued in any form.
I understand that there was a limited release of this album on CD as is but I've never seen it and know nothing more.