Although released as two separate LP records, these two albums were recorded in continuous sessions in December 1958 and were released simultaneously in early 1959 - they should thus be considered together, especially as the tracks were re-organised for the many subsequent re-issues (see below) on a multitude of labels. Delysé was associated with Decca Records, which was acquired by Polygram in 1980; this in turn was subsumed into Universal Music Group in 1998.
Furthermore, copyright in the original recordings lapsed in 2009 so we can probably see many more releases in due course.
Not many recording artists see their recordings pass into the public domain while still pursuing active recording careers! This is quite some achievement and a testatement to John Williams' longevity. Some tracks are now also available as a download-only album!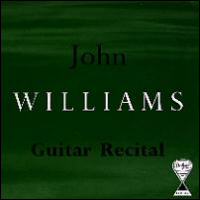 Guitar Recital Volume 1
Delysé ECB.3149 (UK)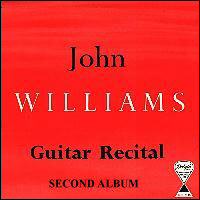 Guitar Recital Volume 2
Delysé ECB.3150 (UK)

On CD:


The Beginning of a Legend Volume I
Dynamic, 2010





The Beginning of a Legend Volume II
Dynamic, 2010


Volume 1

J.S. Bach: Cello Suite No. 3 in C Major BVW 1009 Trans. Duarte
Prelude [04.04]
Allemande [04.05]
Courante [03.26]
Sarabande [04.08]
Bourrées 1&2 [04.12]
Gigue [03.39]


Isaac Albéniz: La Torre Bermeja [04.08]
Manuel Maria Ponce: Three Mexican Folksongs [06.39]
La Pajarera
Por ti mi corazon
La Valentina

Heitor Villa-Lobos: Etude No. 1 in E Minor [01.57]
Jorge Gomez Crespo: Norteña [03.30]
John Duarte: Variations on Catalan Folk Song 'Canço de llabre' op. 25 [09.50]
Volume 2

J.S. Bach: Cello Suite No. 1 in G Major BVW 1007 Trans. Duarte
Prelude [02.20]
Allemande [03.42]
Courante [02.59]
Sarabande [03.22]
Menuets 1&2 [03.12]
Gigue [01.51]


Domenico Scarlatti: Sonata in E Minor L352 Trans. Segovia [03.03]
Alessandro Scarlatti: Gavotte Trans. Segovia [03.13]
Fernando Sor: Variations on a Theme by W.A. Mozart Das Klinget so herrlich, Op. 9 [06.52]
Andrés Segovia: Oración [03.15]
Andrés Segovia: Estudio [02.09]
Paquita Madriguera: Humorada [01.47]
Alexandre Tansman: Barcarolla [03.19]
Enrique Granados: La Maja de Goya Trans. Llobet [04.49]
Antonio Lauro: Vals Criollo [02.40]
In 1972, these recordings were re-arranged to include the Bach and Scarlattis on one record, and the other pieces on a second, and this arrangement has been issued on several occasions, sometimes as individual albums and sometimes as a double LP or CD. I have no intention of including a picture of every re-issue cover, but here are the significant ones which turn up most often:
On LP: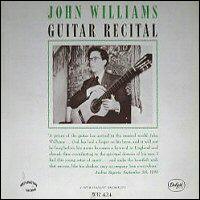 Guitar Recital
Delysé WR-424 (USA)

Ace of Diamonds
SDD-R 328, 1972


Ace of Diamonds
SDD-R 329, 1972


John Williams Plays Bach
Bach Suites
"Concert Hall", 1973
SMSA 2828


The Virtuoso Guitar
Non-Bach pieces
Everest, 1973 (?)
SDBR 3195


Re-issue as Double LP
Decca, 1977
DPAR579-80

Guitar Recital
Decca Holland, 1977
DK-11556
(Also available separately as
John Williams Plays Bach and Scarlatti SDDR-328
John Williams Plays Spanish Music SDDR-329)


On CD:


Decca, 1990
(2CD)




Decca 466 910-2, 1999, 2CD
(Note: Cavatina was licensed
from Cube Records for this CD)




Bach & Scarlatti
Belart, 1999
(Alternative cover)




Spanish Favourites
Decca 433 632-2, 1991
(US cover)




On Download: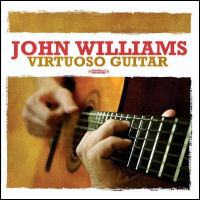 Virtuoso Guitar
Essential Media, 2009
Further releases of this material of which I am aware:
There have also been at least two re-issues on both LP and CD under the title 500 Years of (Classical) Guitar, and others. I don't know much about these releases, but I'd be interested in compiling a list of all LP and CD releases of this material: if you know of one not listed above, please let me know!
John Williams Guitar Virtuoso, released 2000 in Australia: MasterSong 503382 (Spanish Music).