For some reason, this record as published all around the world gives priority (and Side A) to the two Viivaldi pieces, whilst the US edition inverts the order (and title of the album), giving priority (and Side A) to the Giuliani. As I consider UK releases to be the "definitive" version, I have adopted the non-US track listing below.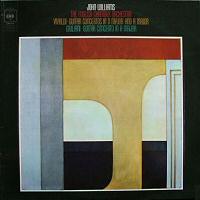 CBS 72798 (UK)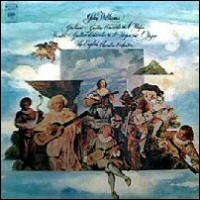 Columbia 235369 (US)

Vivaldi and Giuliani Guitar Concertos

Recorded October 1968
Released 1969
Producer: Paul Myers
Engineers: Helmuth Kolbe, David Hunt

With English Chamber Orchestra
Sir Charles Groves, Cond.
Colin Tilney Harpsichord Continuo
Antonio Vivaldi: Concerto for Guitar and Strings in D major
(Orig. for Lute and Two Violins) R.93
Allegro giusto [03.38]
Largo [4:13]
Allegro [02.01]

Antonio Vivaldi: Concerto for Guitar and String Orchestra in A Major
(Trio Sonata for Violin, Lute and Basso Continuo in C major) R.82
Allegro non molto [02.41]
Larghetto [03.34]
Allegro [02.11]


Mauro Giuliani: Concerto for Guitar and String Orchestra Op. 30
Allegro maestoso [09.00]
Andantino siciliano [05.43]
Rondo alla polacca [07.14]

Notes:
Tracks from this recording appear on the following LP Compilations:
Vivaldi Concerto in D Major appears on John Williams' Greatest Hits (1974) and Le Grand Classique (1986);
The Largo alone is included on Greatest Hits-The Guitar.

The following CD re-issues include tracks from this album:
The complete contents of this album are included on two CD collections, published within months of each other in 1989:
Guitar Concertos and The Great Guitar Concertos (Anniversary Edition);

The Vivaldi Concerto in D Major and the Giuliani Concerto are also included on Rodrigo, Giuliani & Vivaldi, and the last movement of the Giuliani is included on The Golden Guitar (1989).

Note also that since publication of this LP, John Williams re-recorded the Giuliani Concerto in 1999.