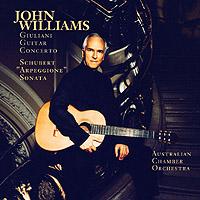 Schubert and Giuliani
Sony 63385
Recorded Ultimo, Australia, December 1998
Released April 1999
Producer: Andreas Neubronner
Engineer: Allan Maclean

with Australian Chamber Orchestra
Leader Richard Tognetti

Franz Schubert: Sonata Arpeggione in A minor, D 821 Arr. Williams/Gunning
Allegro moderato [10.14]
Adagio [04.07]
Allegretto [07.44]

Mauro Giuliani: Concerto for Guitar no 1 in A major, Op. 30
Allegro maestoso [15.44]
Andantino, Siciliano [05.41]
Rondo alla polacca [08.26]

Notes
The comments below are extracted from an article published in BBC Music Magazine, May 1999. © BBC Enterprises 1999.
The transcription of the Schubert work, which is normally performed on the cello and piano, was Williams' idea. I've always loved the piece and thought every five or ten years "I must do that". The part lies under the fingers easier than for the cello. The original arpeggione, a now obsolete string instrument, had six strings and frets and was also tuned exactly like the guitar. What always worried me was that the guitar and piano are two percussive plucked instruments and not a good mixture. Curiously the arpeggione part has only two small sections with long notes that stretch over two or three bars. They are easily interchanged with the piano part; in a way it's even better.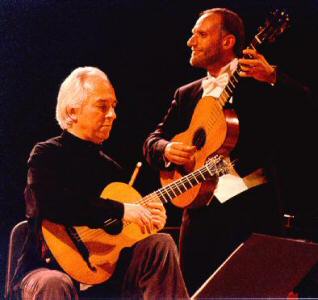 Williams was persuaded to re-record the Giuliani Concerto by two colleagues, Adrian Walter, who runs the biennial Darwin International Guitar Festival, where Williams performs, and Carlo Barone [with Williams, right], an expert in early 19th-century music. What Carlo explained and articulated is that Giuliani was writing totally within the bel canto, operatic, dramatic tradition of his time. Last June, Williams performed two concerts with Barone and his ensemble at Vigevano, near Milan [more information on those concerts here]. I used an instrument of the period in order to acquaint myself fully with the feel and the style. It's more than saying I'm convinced: I can't believe we played it any differently. I wouldn't listen to my old [1968] recording now; it would hurt.
After auditioning eight different period guitars, he decided on an 1814 Guadagnini, the kind of instrument Giuliani would have played, the type of sound he knew; not as clean as a modern instrument, more intimate, more vocal, a smaller sound, but warmer, more mellow, and less instrumental, more conversational. What you end up with is a kind of fantasy of changing moods and dramatic statements, rather like an opera. I don't want to make it sound disjointed, but the presumption you have to keep the metre steady, do your rubato within your square time signature, is totally irrelevant. You have tutti, aria-like passages, recitative-like passages, guitar virtuoso passages, you have almost semi-improvised passages.
He loves working with the Australian Chamber Orchestra, which he says is at once traditional and flexible in its approach to what it performs and how it plays it. The orchestra is open and flexible about historical facts. It has the most wonderful spontaneous expression. There might be four bars without any vibrato, a pure stillness, then a very nice more intense vibrato at a cadence. To respond to the expression in the music at that moment. It's a wonderful thing.