John Williams enjoyed a long-standing personal and professional friendship with tenor Wilfred Brown. They performed together many times until Brown's untimely death two years after this recording was released. This is the second and final recording they made together (See Folk-Songs). Stephen Dodgson's setting of the John Clare poems was written for Williams and Brown at their request in 1962 and this remains its only recording to date.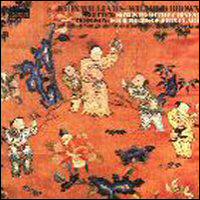 Songs for Voice and Guitar
CBS 61126 (UK)
Columbia Odyssey 0398 (US)
Recorded 1969
Released 1969
Producer: Paul Myers
Engineers: Michael Hall, Mark Sutton

With Wilfred Brown, Tenor

John Dowland /Thomas Campian: I Care Not For These Ladies

Anon (16th century): The Willow Song

Philip Rosseter: When Laura Smiles

John Dowland: Fantasie No. 7 for solo Guitar [04.07]

Benjamin Britten (Trans. Arthur Waley): Songs from the Chinese Op. 58 <!!- 10:06 -!!>
The Big Chariot The Book Of Songs [02:02]
The Old Lute Po Chu-i [02:19]
The Autumn Wind Wu-ti [01:30]
The Herd-Boy Lu-Yu [01:22]
Depression Po Chu-i [01:24]
Dance Song The Book Of Songs [01:19]


John Bartlet / George Gascoigne: Of All The Birds That I Do Know
Robert Jones: Go To Bed, Sweet Muse
Francis Pilkington / Henry Constable: Diaphenia
John Dowland: Melancholy Galliard for solo Guitar
John Dowland: My Lady Hundson's Puffe for solo Guitar
Stephen Dodgson: Four Poems of John Clare:
Trotty Wagtail
The Peasant Poet
Turkeys
The Fox
Notes:
The Dowland Fantasie appears on the compilation LP John Williams Collection (1978). It is also the only track on this album to have ever been released on CD, on English Guitar Music (2000).