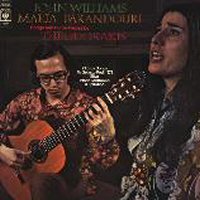 Songs of Freedom
CBS S 72947
Released 1971 (LP)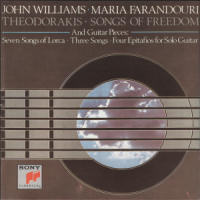 Songs of Freedom
Sony SMK 62266
Released 1995 (CD)

Songs of Freedom - Theodorakis

With Maria Farandouri Singer

Recorded July 1970
Producer: Paul Myers
Engineer: Robert Auger

All compositions by Mikis Theodorakis
Seven Songs of Federico Garcia Lorca, words by Odissefs Elitis Arr. by Stephen Dodgson:
Tou Pikramenou (He With the sorrow) [02.19]
Antonio Torres Xepentia I (Capture of Antonito el Camborio) [03.16]
Antonio Torres Xepentia II (Death of Antonito el Camborio) [02.59]
Xamos Apo Agapi (Lost through love) 03.31]
I Kaloggria i Tsingana (The Gypsy Nun) [02.35]
Tou Anemou (The Wind and the Gypsy Girl) [04.27]

I Pandermi [05.26]

Four Epitafios Arr. by Stanley Myers for Solo Guitar
Epitafio No. 2 (Locks of Hair) [02.01]
Epitafio No. 3 (One Day in May) [02.21]
Epitafio No. 4 (You have Set, My Star) [02.14]
Epitafio No. 5 (You were Standing in front of the Window) [01.15]

Three Songs Arr. by Stephen Dodgson:
To Yelasto Pedi The Smiling Boy (Theme from "Z") [03.48]
Silva [02.32]
Irthan i Anthropoi (The one who was taken by the road) [02.59]

Re-Issue Notes:
This album's life as a CD in the mid-1990s was exceptionally brief (in the shops in June, off sale by mid-July). It is out of print worldwide, except for Greece (where Theodorakis is a major figure in musical life). You can buy it online from Studio52.
Three of the Four Epitafios recorded here (3, 4 and 5) appear on Recollections (1979) and were also re-recorded for The Guitarist album in 2003.

John Williams has been involved in two further versions of To Yelasto Pedi, as an instrumental piece: arranged by Stanley Myers with strings on Changes, recorded shortly after this album was published, and arranged by John Williams several years later with Sky.