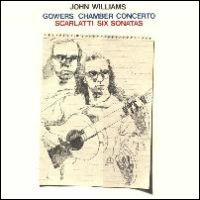 CBS M 72979
Recorded 1971
Released 1972

Producer: Paul Myers
Engineers: John Richards, John Moseley, Mike FitzHenry

Featured musicians on Chamber Concerto:
Godfrey Salmon Conductor
John Scott Sax & Flutes
Pat Halling Violin
Stephen Shingles Viola
Denis Vigay Cello
Herbie Flowers Bass Guitar
Tristan Fry Drums

Patrick Gowers: Chamber Concerto for Guitar [28.13]


Domenico Scarlatti: Six Sonatas For Harpsichord Tr. Williams
E Major K.380 (L.23): Andante commodo [05.14]
A Major K.208 (L.238): Andante e cantabile [03.02]
A Minor K.175 (L.429): Allegro [03.25]
A Major K.322 (L.485): Allegro [03.15]
D Minor K.213 (L.108): Andante [04.41]
D Major Orig. C Major K.159 (L.194): Allegro [02.55]

Patrick Gowers (after Scarlatti): Double For Guitar and Electric Organ [02.50]
Re-issue Notes:
Tracks from this recording appear on the following LP Compilations:
Gowers' Chamber Concerto was paired with Rhapsody to form John Williams Plays Patrick Gowers (1977).
The Scarlatti Sonatas were paired with the Villa-Lobos Preludes (on the other Patrick Gowers LP) to form Villa-Lobos and Scarlatti (1976), also published as The Golden Guitar of John Williams.

The Scarlatti Sonata in E Major also appears on John Williams' Greatest Hits (1974) and also on Recollections (1979)

CD Compilations featuring tracks from this recording:
Paganini, Scarlatti Giuliani and Villa-Lobos includes all the Scarlatti Sonatas recorded here.
The Gowers pieces (Chamber Concerto and Double) have yet to be issued on CD.