John Williams has enjoyed a friendship with jazz singer (Dame) Cleo Laine and her husband and bandleader John Dankworth since the early 1960s, and appeared many times at the Wavendon Festival (held in the grounds of the Dankworth family home).
Following appearances together at Ronnie Scott's in the early 1970s, they decided to make a record together. One track on this album is particularly significant: having heard John Williams play Stanley Myers' Cavatina, Cleo wondered if any lyrics existed. As none did, she wrote her own, and the result is "He Was Beautiful", recorded here. Although released as a single at the time (1976), it failed to make an impact on the British charts. It did, however, meet with sucess the next year, when released by Iris Williams (no relation). Another Cleo Laine/John Williams album, Let The Music Take You, followed in 1983.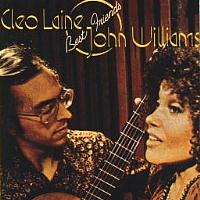 RCA 60961 (UK)
Released 1976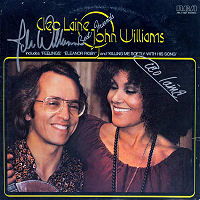 RCA APL 1937 (US)
Released 1976
(The autographs are not part of the artwork...)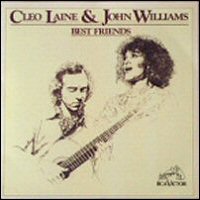 RCA 60961 (CD)
Released 1993

Producers: John Dankworth & Paul Hart
Engineers: John Sonneveld & John Burns
Arrangements by Brian Gascoigne, John Dankworth & Paul Hart
with Cleo Laine
and: John Dankworth Sax, Clarinet
Paul Hart Electric Piano, Violin
Tony Kinsey Drums
Kenny Clare Drums
Dave Markee Bass
Chris Hartley Viola
Gerry Richards Violin
Celia Mitchell Violin


Moris Albert: Feelings [04.04]
Paul Hart: Time Does Fly [[02.40]
Charles Fox/Norman Gimbel: Killing Me Softly With His Song [04.35]
Dudley Moore/Fran Landesman: Before Love Went Out Of Style [02.18]
Cleo Laine/John Dankworth: My Day Has Started With You [04.07]
Antonio Carlos Jobim: Wave [03.14]
John Lennon/Paul McCartney: Eleanor Rigby [03.31]
J. Moore/D. Ross: Awake My Love [03.02]
David Gates: If [03.39]
Cleo Laine/John Dankworth: Charms [03.31]
Brian Patten/Brian Gascoigne: Sleep Now [03.02]
Stanley Myers/Cleo Laine: He Was Beautiful (lyric version of Cavatina) [04.19]
Re-issue Notes:
Feelings, Killing Me Softly, Wave, Eleanor Rigby, If, and He Was Beautiful have appeared on one or another of the compilations of John Williams' Cube Records recordings.