See below for information about the Extended Edition.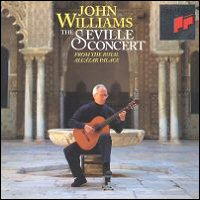 The Seville Concert

Sony 53359
Released 1993
Recorded November 1992
at the Royal Alcazar Palace, Seville, Spain
Producer: Nathan Waks
Engineers: Uli Schnieder, Andreas Strange
(A Sony Classical/London Weekend Television/RM Associates co-production)

With Orquestra Sinfónica de Sevilla
José Buenagu Conductor
(on Vivaldi and Rodrigo concerti)

Isaac Albéniz: Sevilla (Suite española, Op. 47: no 3) Arr. Williams [04.43]
Johann Sebastian Bach : Partita for Lute in E Major, BWV 1006a: Prelude Arr. Williams [04.23]
Domenico Scarlatti: Sonata for Harpsichord in D Minor K 213 (L 108) Arr. Williams [05.11]
Antonio Vivaldi: concerto for Lute and Two Violins (R.93)
Allegro giusto [03.37]
Largo [04.09]
Allegro [02.15]

Yuquijiro Yocoh: Variations on Sakura [05.03]
Nikita Koshkin: Usher Waltz Op. 29 After Edgar Allan Poe [05.46]
Isaac Albéniz: Asturias (Leyenda) Arr. Williams [06.02]
Augustin Barrios Mangoré : Sueño en la floresta [06.02]
Joaquin Rodrigo : Concierto de Aranjuez - Adagio [11.01]
Re-Issue Notes:
The Guitar Album (1994) includes the Sonata in D Major and Sevilla
The World of John Williams (1996) includes Variations on Sakura;
Romance of the Guitar (2000) includes Asturias and Bach Prelude;
The Ultimate Guitar Collection (2004) includes Sevilla and Asturias.




Furthermore, a decade after original release, this CD was re-issued in the Masterworks Expanded Edition series with four bonus Albéniz tracks taken from Echoes of Spain, recorded two years previously (interestingly, in the USA, this is presented as a premium product at a premium price; in Europe, it is presented as a budget product at a budget price - the two are identical!)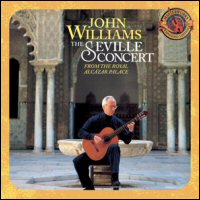 90409
Released 2003 (US)
Expanded Edition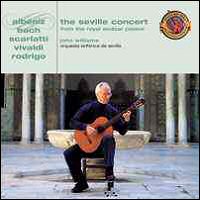 5174882
Released 2004 (UK)
Expanded Edition

The added tracks are:
Torre Bermeja (Serenata) 12 piezas caracteristicas, Op. 92 No. 12 04.06
Granada (Serenata) Suite española, Op.47 No. 1 04.35
Cadiz (Canción) Suite española, Op.47 No. 4 03.37
Córdoba Cantos de España, Op. 232 No. 4 06.48
Notes:


As stated above, this recording was a co-production with LWT/RM Associates. This is because the British TV series The South Bank Show (itself a LWT/RM co-production) made a documentary following John Williams during 1992, which culminated in the filming of the performances on this album. This two-hour, two-part show (The Film Profile of John Williams and the Concert) aired on 21st November 1993 but was also made available commercially on Laserdisc (SLV 53475) and VHS video (SHV 53475). These are currently out of print, although copies show up occasionally on eBay. The DVD which also shows up from time to time is a Far-Eastern bootleg, and not an official product.

<!!-- Awarded 5 DIAPASONS in Diapason, France 1993 -- !!>