This listing really belongs on the CD compilations page, as this CD is primarily a compilation of previously-issued recordings. However, this album also includes three newly-recorded tracks.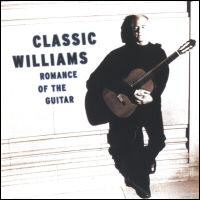 Classic Williams -
Romance of the Guitar
Sony 89141
Released 2000

Producers: Laraine Perri & John Williams
New material recorded December 1999
With String Orchestra, William Goodchild, Cond.

Re-Issue Notes:
The three pieces recorded here for the first time, Pavane pour une infante defunte, El condor pasa and Romance, also appear on The Ultimate Guitar Collection (2004).