By my own criteria, this should really appear on the Guest Appearances page, as John Williams does not play on all tracks and is one of many soloists. However, this is one of my favourite CDs and as it is not available in the usual online music stores, I feel it needs some significant exposure. I cannot recommend this highly enough and hope that I can help an apparently obscure recording reach a wider audience.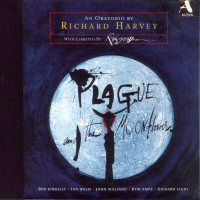 Plague and the Moonflower
Oratorio for voices, guitar and orchestra
Written, composed and illuminated by
Richard Harvey and Ralph Steadman

Altus ALU0001
Recorded 1999
Released 1999
Producers: Richard Harvey, Austin Ince
Engineer: Austin Ince

With: Sir Ben Kingsley Narrator
Sir Ian Holm The Plague Demon
Kym Amps Soprano
Eamonn O'Dwyre Treble
John Williams Guitar
Richard Studt Violin
Roger Chase Viola
Choir of New College, Oxford
New London Children's Choir
English Chamber Choir

Conducted by Richard Harvey
Prologue [03.07]
Intrada [04.24]
River Stories [10.04]
Deserts of the Nile [04.00]
A Child's Carol [05.07]
Demon Dance! [02.52]
Plague Lives! [04.08]
Ancient Lands [05.16]
The Master Builders [05.04]
Plague and the Moonflower [15.45] <!!-- Total 68.32 --!!>
Chorale and Epilogue [04.57]
Finale - Rejouissance! [03.48]
See Altus Records' web site for more information, audio samples and ordering.