If there is a theme to John Williams' activities in the first half of the new decade, it is not a musical one, as his performances have been arguably more varied than ever before; it's a theme of friendship, personal and musical, old and new.
He opened the new millennium with a benefit concert with the English Chamber Orchestra at the Barbican in London on 9th January 2000 for the victims of the earthquakes in Turkey which had devastated the country in August and November 1999, the prorgamme appropriately including a performance of Domeniconi's Koyunbaba.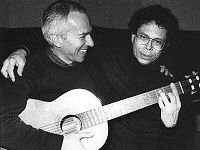 In March, he again toured Europe with Inti Illimani and Paco Peña, while Sony Classical released a compilation album of tracks from the last dozen years or so under the title Romance of the Guitar, which did include three new tracks, Romance, Williams' own arrangement of Fauré's Pavanne and a new arrangement of El condor pasa by Jorge Morel, recorded just before Christmas. After a short UK tour in early May, he made his first professional appearance in Cuba for the island's Tenth International Guitar Festival, in a concert devised and conducted by Leo Brouwer (consisting largely of the contents of their 1997 album). He opened the 2000/2001 season with another recital tour of Australia.
In September and October, he was in recording studios in London and Paris working on his latest CD, the fruits of the previous several years' research into the guitar music of Africa, and the spring of 2001 saw the release of The Magic Box. Williams had approached this project with more trepidation than most of his previous ventures, wondering as he did whether "five white blokes from North London" could do justice to this material. He need not have worried, though: his guide and inspiration for this project, Francis Bebey, had given it his blessing. The other four white blokes were long-time collaborators Richard Harvey on all manner of exotic blown and plucked instruments and bassist Chris Laurence, plus newcomers to the Friends circle, jazz guitarist John Etheridge playing steel-string acoustic, and percussionist extraordinaire Paul Clarvis. For the recording, they were joined on individual tracks by Bebey himself, the African Children's Choir and even a string section.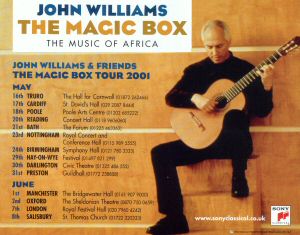 The CD was released in a blitz of media coverage unseen since Sky's launch twenty years previously, with Sony Classical contributing a comprehensive web site (warning: makes extensive use of Flash). The new ensemble embarked upon a UK tour in May and June, followed by European and Australasian tours until the end of the year. Sadly, the inspiration for this project, Francis Bebey, died of a heart attack at his home in Paris on 28th May, which added a new poignancy to the rest of the tour.
The concert performances were quite different from those on the CD, not only because the musicians acted as a tightly-knit ensemble (one of my criticisms of the CD is that it is mixed to give prominence to Williams' guitar, which is frankly unfair) and unencumbered by the strictures of the recording studio. The concerts also featured at least twice as much music (the CD lasts under an hour; some concerts lasted more than two), and some pieces were used as a springboard for extended flights of extemporisation by all involved. Of particular note is the new arrangement of the African National Congress anthem (and now national anthem of South Africa), Nkosi Sikelel'I Afrika, with the vocals (for obvious reasons, they didn't take along a children's choir on tour to sing one piece) mesmerisingly transformed by Richard Harvey on Andean panpipes (a hint of which is present on the CD recording, in the piece's introduction). It might sound completely incongruous, but it works!
As Williams has indicated in one or two interviews since, there is a chance that a live CD might be released. In my own opinion, this is worthy of release on video, as the full impact of the concerts cannot quite be judged without the sight of Richard Harvey choosing from his vast collection of instruments, sometimes seeming to play more than one simultanously, or of Paul Clarvis rumaging in his collection of weird objects to use as percussion instruments. Not to mention his remarkable attire, which for the two concerts I attended included his wearing brightly-coloured shorts (I understand this was a regular feature), which would have been particularly striking in auditoria with audience dress codes! I am desperate for any photographs of this ensemble on stage. Can anyone help? If you can, please get in touch! They returned for more concerts in the UK and around Europe in 2002, including a late-night appearance at the Royal Albert Hall Proms on 21st August. The previous day, John Williams fitted in another Proms performance with another set of "friends", the Australian Chamber Orchestra, in a programme which included Nourlangie.
In July, Williams interrupted the Magic Box tour to attend the last Inti-Illimani concert to feature outgoing Musical Director Horacio Salinas, with whom he had formed a close friendship over the previous twenty years. At the end of the year, however, he was to return with Paco Peña to play with them again, under new Artistic Director Manuel Meriño. In the autumn, Williams embarked on his almost-regular October recital tour of North America. This included a masterclass at the University of Arizona, a illustrated report on which by William Wolfe can be seen here, the online Guitrarra Magazine (which I highly recommend).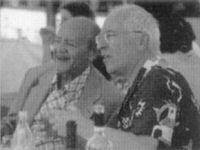 At the start of 2003, Williams delved into one of his oldest musical (and personal) friendships, with Alirio Díaz, the Maestro from Venezuela who had been a fellow participant at the Segovia Summer School fifty years ago, and arguably a greater formative influence on the young Williams' musical education than Segovia himself. Díaz had just published new editions of Lauro and other Venezuelan music, which Williams was eager to play. The resulting CD, recorded in May, was released in September entitled El Diablo Suleto, and is dedicated to Díaz, on the occasion of his 80th Birthday (12th November). The release was, predictably, accompanied by a short recital tour of the UK, starting at the Wigmore Hall. Another highlight of 2003 was writing and presented a four-part series of half-hour programmes for BBC Radio 3 about the history and development of the modern guitar and its repertoire since the early 19th century. The series was broadcast in October, and repeated two years later, in April 2005.
In the meantime, in a move that surprised nobody who knows him, in July John Williams suddenly cancelled his planned US tour for October and November 2003, in protest against the American-British invasion of Iraq, which he had opposed from the start.
In May 2004, Williams attended the Volos Guitar Festival in Athens, Greece, where apart from performing the Giuliani Concerto, he premiered Leo Brouwer's new Double Concerto with Costa Cotsiolis, with the composer conducting Kamerata Athens. The event would be repeated again in Dublin on 3rd July and a year later, on 14th July 2005 in Cordoba, Spain. He played at the Bath Music Festival with Venezuelan harpist Carlos Orozco. During the summer and autumn, he alternated solo recitals of the Venezuelan material and other music (notably, fellow Australian Peter Sculthorpe's Djilile) with performances of the Magic Box material with a slightly different ensemble, known as W.E.B., for which Williams and Etheridge were joined by Patrick Bebey (the late Francis Bebey's son and accomplished percussion and keyboard player in his own right).
He also attended the Dundee Guitar Fesitival in July, where apart from a W.E.B. concert appearance, he participated in a public debate on guitar construction with Greg Smallman, concentrating on Smallman's revolutionary carbon-fibre lattice bracing system.
On 24th November, he premiered another new work, this time with the London Symphony Orchestra under Francois-Xavier Roth. Horacio Salinas, two years after leaving Inti-Illimani, developed Danzas peregrinas based on material he had composed for the Intis in their performances with Williams and Peña in the late 1980s for Orchestra, Guitar and Charango (played on this occasion by Inti member Horacio Durán) and wind instruments (played by the seemingly joined-at-the-hip-to-Williams Richard Harvey).
2005 opened with a tour of Latin America, including sell-out concerts in Mexico and Venezuela in January. On Williams' return to the UK, after more W.E.B. performances, at the end of February, Williams played a benefit concert for the Palestine Solidarity Campaign with 'oud (Arab lute) player Khaled Jubran, performing half of the concert each, and then coming together for two encores (review).
A short tour in March with the English Chamber Orchestra was interrupted by a concert launching Williams' latest project with - who else - Richard Harvey: John Williams' and Richard Harvey's "World Tour", which continued with further concerts in July, including at the Luxembourg Music Festival. The quote marks are there for a reason: the title is not meant to imply that they will be visiting every country (although I suspect that this will eventually prove to be the case), but that the music represented will be from every continent. What I have witnessed includes England, Ireland, Spain, Italy, South America, North America, Tailand, China, and, of course, given their common experiences over the last four years, Africa. The surprise is the absence of Australian representation, which I'm sure they'll rectify by the end of the tour...
In April, Williams departed from his usual practice of visiting North America in October, and toured the USA, featuring a new work of his own composition, the Australian-flavoured From A Bird: Six Sketches.
At a ceremony at the University of Southampton on 21st July 2005, John Williams received the honorary degree of Doctor of Music, with the following citation (extracts):
John Williams is a foremost ambassador of the guitar. [...] John Williams embraces jazz, rock and influences from world music as well as the mainsteam classical repertoire. Performances solo and with orchestra have bought him international acclaim [...]. He has been linked with the Turner Sims Concert Hall at the University of Southampton throughout its history, first appearing in 1975.
Later that week, he attended the London International Guitar Festival, run by his friend and erstwhile student Carlos Bonell. One of the great sights at the Festival was seeing the three generations of friends and teacher-pupils together: Alirio Díaz (guest of honour at the festival), John Williams and Carlos Bonell, although regrettably there was no chance for all three to perform together.
The rest of 2005 was devoted to alternating solo performances with appearances with Richard Harvey, including stops in Italy, Japan and Hong Kong in the autumn, and an extensive UK tour in the spring of 2006.
The ensemble formed for the Magic Box recordings and tours underwent a further change, Williams embarking on extensive duo tours with John Etheridge. The repertoire underwent an inevitable change, too. Some of the core African material remained, but this was expanded with their own original compositons and arrangements of others, including Bach and Barrios. Jazz steel-string and clssical acoustic guitars duetting had never sounded so good!
Never one to enjoy touring alone, Williams spent the next 18 months alternating duet tours, occasionally appearing alone. The Williams-Ethereidge appearance at the Dublin Guitar Festival on 8th July 2006 was recorded for radio and released on CD in October by Sony Classical.
In August 2006 he attended the International Guitar Festival in Paracho, Mexico. Although not a huge town, it's known to some as the guitar cpital of the world as the whole place seems to exist for the purpose of making guitars and other strinked instuments and plaing them. A documentary about the place and the festival by Charlie Williams, "The Guitar Is Their Song" is available from Eden Films (not the easiest site to navigate or link to, click on "Documentaries and Shorts on the front page.)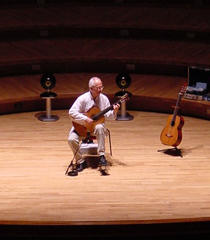 After a short break from public performing, he returned for the 2008/09 season with a new CD of solo arrangements of Turlough O'Carolan pieces he'd played with Richard Harvey and, more interestingly, his own recent compositions. Some of these, in particular the titular From a Bird, have been road-tested in concerts for quite a few years. In response to Sony Classical's rather strange attitude to short lifespans of their active catalogue, he recorded and published the CD himself - as I type these words, it's less than a week since the CDs left the printworks, and distribution is not yet in place. See this page for more information and how to get a copy.
On a personal note: I've been away for a long time and returned home to Birmingham just in time to discover that John Williams was playing Symphony Hall on 6th November - it was only on my way home that I realised that it was 50 years to the day since his public debut at the Wigmore Hall! It struck me that is fairly typical of what John Williams is like as a person: most performers would make a rather significant song and dance about reaching the 50th anniversary of selling out concert venues - in his case, not a mention was made of it in the programme notes, from the stage, or indeed during our short chat afterwards! I didn't think of taking my camera with me but I did take the above photo with my under-performing telephone - if any of the several people I saw taking pictures during the concert and during the autograph session is reading these words, please get in touch!